Londoners spend way too much of their lives in cramped spaces – on heaving platforms, packed tubes, busy pavements or in crowded pubs and restaurants. So when they get home, it's understandable that they'd want some space to spread out and breathe.
Big Borough
Big Borough: Average House Price In London By Floor Space
Londoners spend way too much of their lives in cramped spaces – on heaving platforms, packed tubes, busy pavements or in crowded pubs and restaurants. So when they get home, it's understandable that they'd want some space to spread out and breathe.
Unfortunately, many Londoners have to live in cramped homes too. If you live in the capital or are considering moving there and you want to maximise space for your rent or mortgage, our Big Borough infographic can help you find a flat, house, bungalow or maisonette where you can stretch your legs and get some real breathing room!
We've trawled through a number of government datasets relating to the average house prices in London boroughs, as well as the average floor areas of properties, to figure out which boroughs offer the most space for your money. If you know you're looking for a flat rather than a house, we've also broken down the data for different types of property too.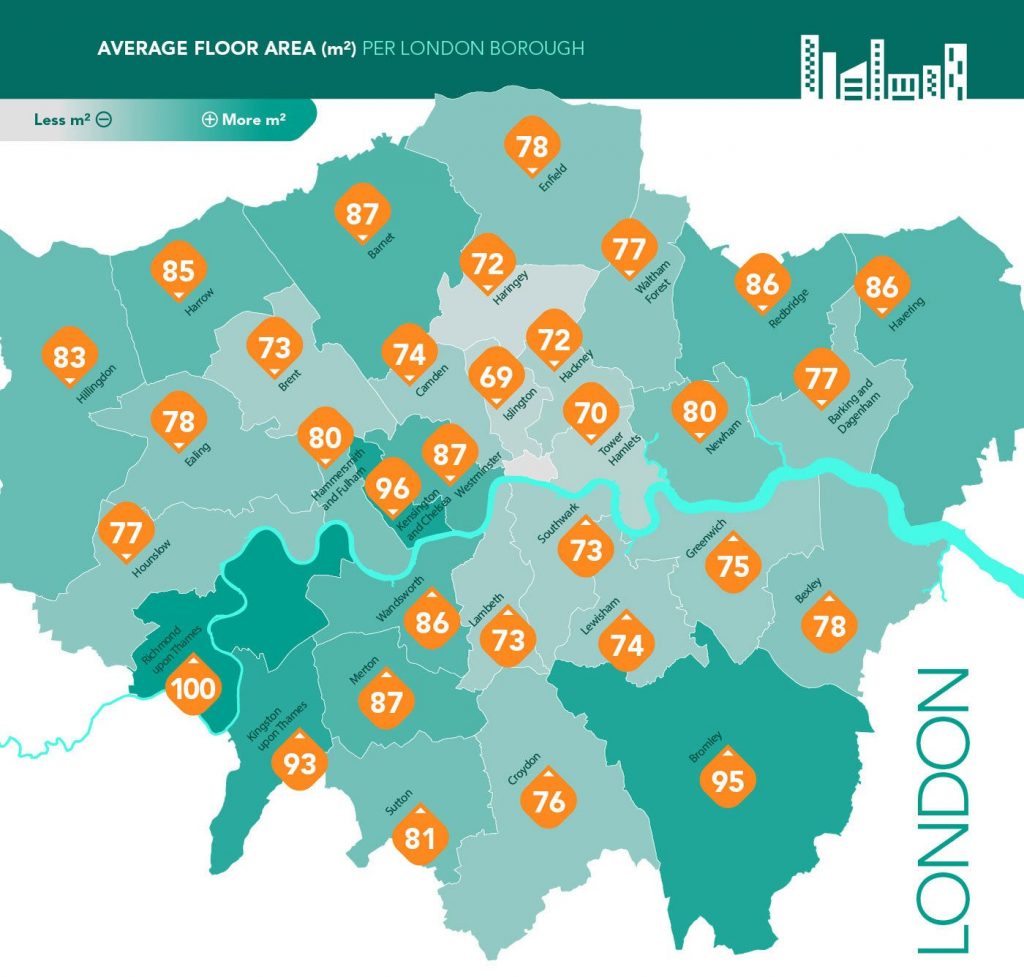 London Borough Map – Average Floor Area (M2) Per London Borough
Our London borough map shows the average floor space in metres squared for each of the capital's districts. So, what does the data show?
Big In The 'Burbs
Perhaps unsurprisingly, you'll usually get more space the further out you get from the centre of town. Far out west, leafy Richmond upon Thames has the biggest homes, averaging at a whopping 100m2 on average. Neighbouring Kingston upon Thames also offers plenty of breathing room with an average floor space of 93m2. You'll also find spacious homes on other peripheries, in Bromley to the south (95m2), Havering (86m2) to the east and Barnet (87m2) up north.
Made In Chelsea
But it's not just the suburbs where you can find spacious places. Well-heeled Kensington and Chelsea is home to the capital's second-largest houses by floor space, averaging 96m2, and its well-to-do neighbours in Westminster (87m2) and Hammersmith and Fulham (80m2) also have pretty sizeable homes too.
North V South – Less Space In The Inner City
The more central you go on our London borough map, the lower the average floor space. Islington has the smallest homes on our list (69m2) and the inner city areas of Camden (74m2), Hackney (72m2), Tower Hamlets (70m2) and Brent (73m2) are also all relatively small. It's notable that all these areas are north of the river.
Head south of the Thames and homes in the inner city tend to be a little more spacious than their equivalents across the river – Lambeth (73m2), Southwark (73m2) Lewisham (74m2) and Wandsworth (86m2) all offer slightly larger homes on average. So if you want to stay relatively close to the heart of the action but want more floor space, look south of the river.
London Borough Map – Average Cost Per M2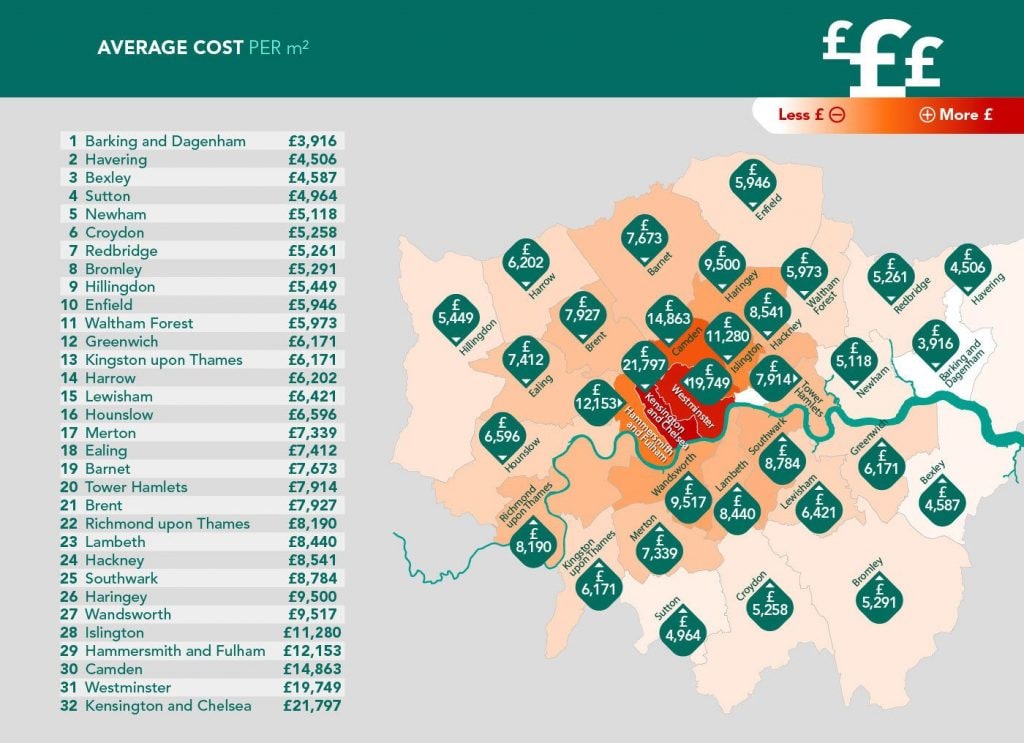 While it's good to know which areas of the capital have more spacious properties, it's also worthwhile knowing what the average cost per square metre is in these areas. For instance, while houses in Richmond upon Thames are big, the cost per square metre is much higher (at £8,190/m2) than in neighbouring Kingston upon Thames (£6,171/m2).
The average house price in London is £656,495, and the average square metre of property in the city will set you back £8,091. Of course, there are massive variations between and within boroughs, and also between types of property – the average flat price in London will usually be lower than the average house.
Go East For The Best Value
If you're looking for the best value, head east. Barking and Dagenham has by far the lowest cost per square metre in the capital, at £3,916/m2 – that's about five and a half times less than Kensington and Chelsea, where prices reach an eye-watering £21,797/m2. Other low-cost areas are found on the east of our London borough map, including Bexley (£4,587/m2) and Newham where prices per square metre are £5,118/m2 on average.
Cheaper In The Suburbs
Otherwise, the research shows a lower cost per square metre the further you get from the centre of London. To the far west, Hillingdon properties cost £5,449/m2 on average, and to the south, Croydon homes come in at £5,528/m2. Head to the far north of London and a square metre in Enfield will set you back £5,946.
The North/South Divide – Higher Average Flat Price In London To The North
As with property size, there's a definite difference in average cost per square metre when you cross London Bridge. Inner-city areas to the north of the river will cost you a few hundred – or even a few thousand – pounds more per square metre than adjacent areas to the south. In Islington for instance, you can expect to pay £11,280/m2. But head south to Lambeth and the space will cost you £8,440.
Sloane Rangers – Expensive Central And West
For the most expensive homes, head to Kensington and Chelsea where, as noted above, a square metre will set you back a tidy £21,797. Westminster is also expensive (blame the politicians!) at £19,749/m2. Camden, which encompasses all those piles around Hampstead Heath comes in third, with a square metre costing £14,863.
Different Property Types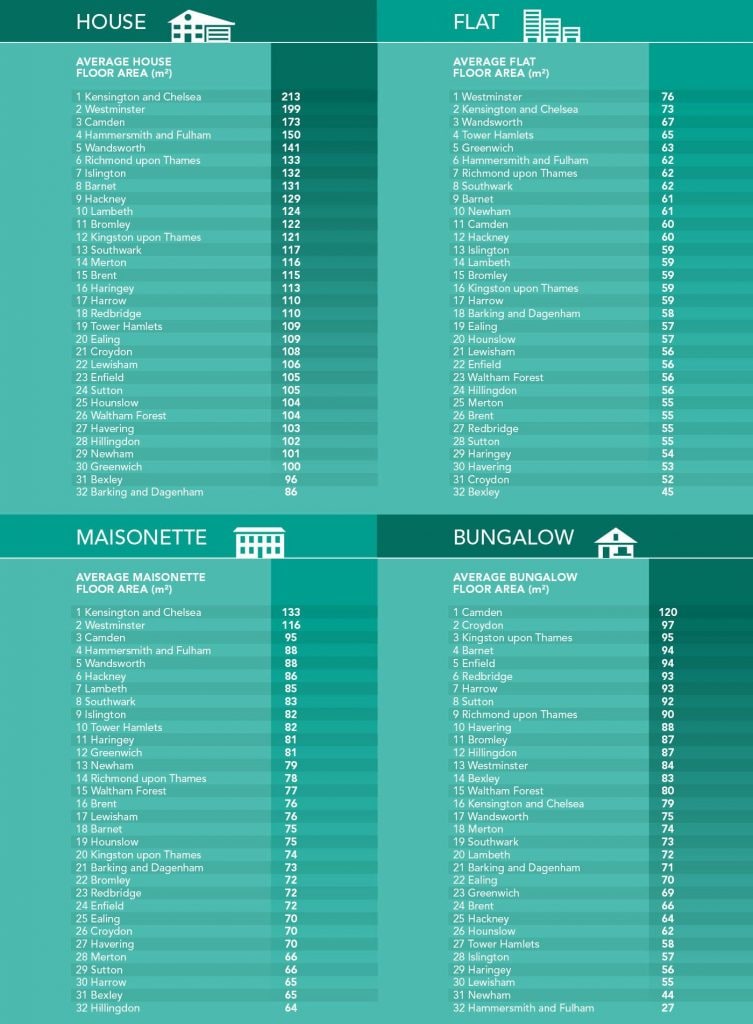 As noted above, the average flat price in London will be different from the cost of a house, a maisonette or a bungalow. In this section, we compare how much space you get for different kinds of properties in different parts of the city.
If, for example, you're looking for a spacious bachelor pad, it's worth knowing which borough will give you the biggest flat. If you're looking to rent with student friends, it'll be useful to know where you can find the biggest houses and maisonettes. If you're looking to buy a family home or somewhere to retire, it's helpful to know where you can get a decent-sized family home or bungalow.
Big Houses For Big Budgets
If you have the cash to splash, the largest houses are in the most expensive boroughs. Kensington and Chelsea comes out on top again (with houses reaching 213m2 on average), Westminster (199m2), Camden (173m2) and Hammersmith and Fulham (150m2).
Houses are smallest to the east – Barking and Dagenham properties come in at 86m2, Bexley houses at 96m2 and those in Greenwich at 100m2.
Flat Rate – Look Central
The data for flats somewhat bucks the trends we've seen elsewhere. While the biggest flats are still in Westminster (76m2) and Kensington & Chelsea (73m2) other less well-heeled boroughs are near the top of the list too. The area with the fourth largest flats is Tower Hamlets (65m2) and Greenwich is fifth in our list, with flats at 63m2. So, wanting a reasonable-sized flat in central London doesn't always have to cost the earth!
More For Your Maisonette
A little roomier than a flat, maisonettes are a great option for students, flatshares and first homes. We're back to the usual trend here, with the biggest places in Kensington & Chelsea (133m2), Westminster (116m2) and Camden (95m2). Head out to the suburbs and you'll find smaller maisonettes in Hillingdon (64m2), Bexley (65m2) and Harrow (65m2).
Bungalows And Highs
A rather different class of property, the space-hungry capital isn't jam-packed with bungalows, and so there aren't very clear trends to follow. Camden has the biggest properties in this class, with bungalows as big as 120m2 but next comes Croydon at 97m2 and in third place is Kingston upon Thames, where bungalows are 95m2 on average.
Somewhat surprisingly, the smallest bungalows in the city are found in otherwise wealthy (and spacious) Hammersmith and Fulham, where bungalows are a squeeze at 27m2. Newham has slightly larger bungalows at 44m2, and then Lewisham's bungalows offer a bit more breathing room averaging at 55m2.
Moving Storage
If you're ready to move somewhere with a bit more space, our moving storage solutions provide ideal short and long-term space for keeping your gear when you're between places. And with 5 locations across London, you have easy access wherever you're moving to. If you don't have any plans to move just yet but you're craving more space, self-storage can be a great way to make some room (and it costs a lot less than a new home!).