We're well and truly into spring now and it's the time of year when we start to think about clearing out our garages so we can start using them again for the summer. Whether your garage is used purely for storage, a workshop or even as part of your summer living space, we've got some excellent garage storage ideas to maximise room.
Think Vertically
Wall space is free space and it's something that a lot of people don't utilise in their garages. We recommend putting shelving and/or cabinets in place to keep things out of the way but easy to get to. You can buy specialist garage furniture but there's nothing wrong with using an old bookcase or wardrobe. You can even make them if you're good with a saw and a screwdriver. At the very least, good shelving with plastic storage boxes will make a world of difference.
To maximise space even more, don't overlook the insides of the cabinet doors and walls. Some conveniently placed hooks, nails or even picture wire creates extra storage space. (Note: you can also use this concept to great effect in your kitchen)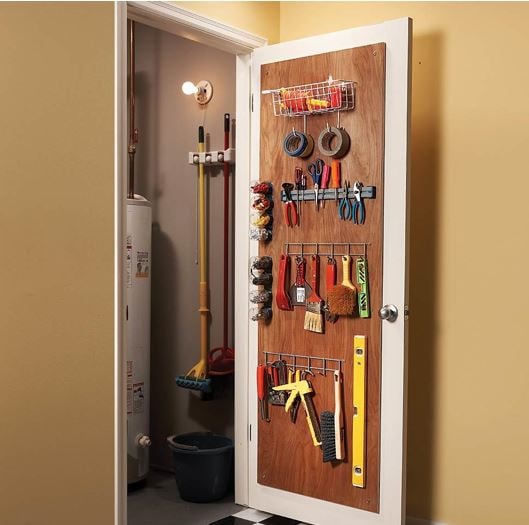 Bicycle Storage Ideas
For most of us, our bikes live in the garage or in the shed and as with tools etc., you can store bikes on the wall or even the ceiling (more on that later) to keep them out of the way and free up valuable floor space. Again, brackets can be bought very cheaply and offer a number of different garage storage solutions such as extra shelving or hooks for helmets, locks etc.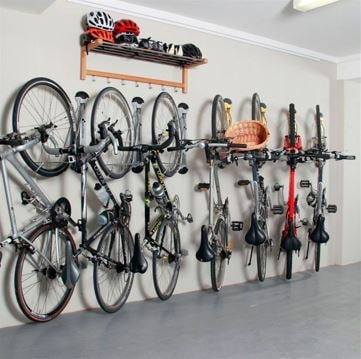 Alternatively, free standing bike racks allow multiple bikes to be stored on top of each other, maximising floor space.
Workshop Garage Storage Ideas
If your garage is also a workshop then you can buy tool boards that contain hooks that you can hang your spanners, hammers and anything else so that they're easy to get to and tidy. If you don't want to spend much, you can just buy a large piece of plywood or MDF board and mount it to the wall. Then just use screws or nails to hang your tools wherever you want.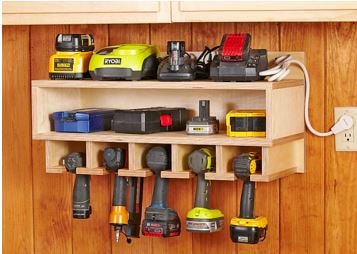 If space really is at a premium, consider creating hinged work surfaces that can be folded back up against the wall when they're not being used. For power tools and their battery packs, consider creating a shelf/rack combo to keep everything in one place.
You can create a simple garden tool storage rack on the wall in a number of ways. Of course, simple hooks screwed into the wall work fine but a wooden pallet fixed to the wall also works well for things like rakes, spades and brushes. Alternatively, fixing small sections of plastic tubing to the wall or the side of a worktop does the same function.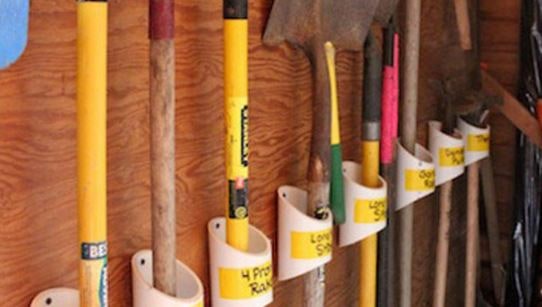 In the shed, you can extend this idea and hang your machinery to keep it off the ground. Lawnmowers, garden strimmers, chainsaws etc. can all be kept on the walls.
Decluttering Your Garage
In a workshop, it's the small things that often go missing and can cause the most clutter. Things like screws, nails, electrical fixings etc. usually end up being chucked in the bottom of a toolbox and forgotten about.
By recycling some normal household items, you can keep everything organised. The plastic containers that washing sachets come in are perfect for keeping these things in. Alternatively, take some plastic jars with screw tops and glue the lids to the underside of a shelf. You can then simply screw/unscrew the jar itself and keep things organised without using up worktop space.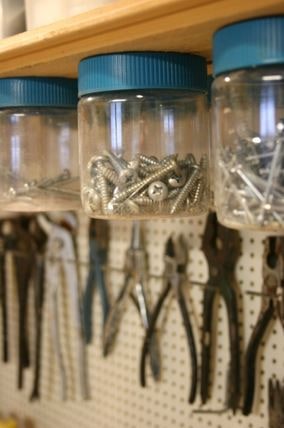 Use Your Ceiling Space
We've already mentioned it in passing but if your garage ceiling is high enough and you can find the joists to attach things to, then this is a great place to create extra storage space in your garage.
With the time and effort, you can create anything from a simple rack for storing ladders and long tools, to shelves and cabinets, all the way up to sliding systems for plastic boxes as per below.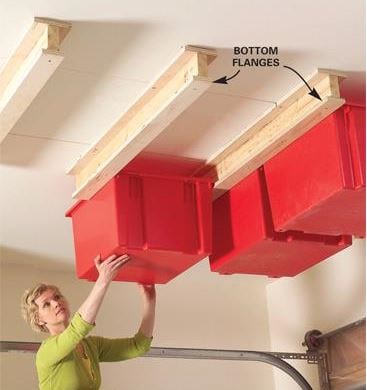 That's some of our best garage storage solutions to make your life easier and clutter-free. We'd love to see and hear of some of your favourite storage ideas. Remember, for all those things you can't find room for, you can take advantage of our range of personal storage options.