The Pro Touch Soccer Academy (PTSA) Festival took place on the pitches on Market Road, just around the corner from Attic Self Storage King's Cross on the 10th June.
Football's Coming Home
It was an action packed day of football, free taster multisports, football, fitness sessions, football, face painting, football and a chance to meet the London Fire Brigade and jump on a fire engine. Did we mention the football?
This year saw young professional academy teams from Brighton, Liverpool, QPR, Nottingham Forest, Millwall and Leyton Orient battle it out with grassroots teams like Pro Touch SA, Camden Elite, Kentish Town and MK Gallactico FC. They all played their hearts out.
Under 10s, Under 11s, Over The Moon
Attic Self Storage was proud to sponsor the Main Cup Finals Winners and Runners Up for both Under 10s and Under 11s; the Plate Winners and Runners Up for Under 10s and under 11s; as well as the Player of the Tournament and Referees Awards. Talk about a seriously heavy table of gold and silverware.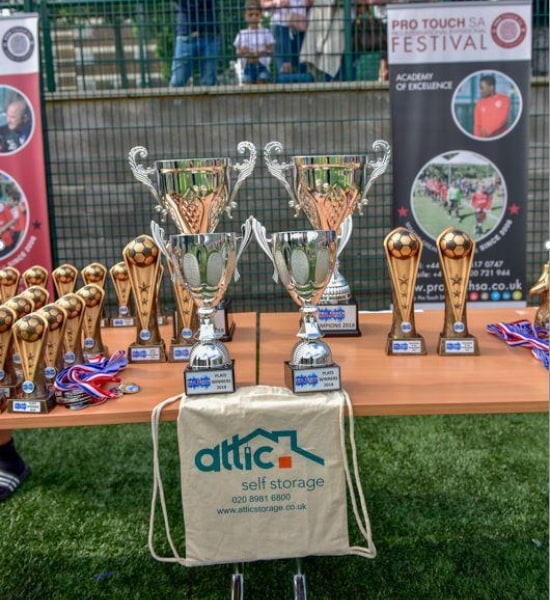 And The Winners Were …….
In the Under 10s cup final at 4pm Ilecto beat Brighton 1–0 to lift the trophy. In the Under 10s Plate Final QPR beat Leyton Orient in a 6–5 thriller. In the Under 11s cup final Camden Elite beat Nottingham Forest (Away) 1–0. In the Under 11s Plate Final Leyton Orient triumphed 1–0 over local rivals Milwall.
Why Attic Support PTSA
PTSA marks its 12th anniversary this year and long may they continue. Run by London-based football professionals who know the beautiful game inside out, they're an amazing team of full time staff, volunteers and FA qualified sports coaches teaching youngsters from 8 to 18 football skills and life skills too.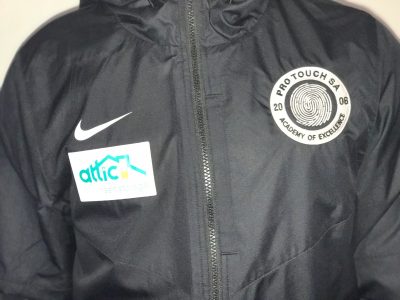 More Than Just Kicking A Ball
As a Community Interest Company (CIC) PTSA aims to engage with young people and deal with wider community needs – offering family support and advice as well as employment training and volunteering opportunities. We love their attitude and the positive effect they're having.
Taking On The World
This year, as in previous years, 50 players and staff from elite academy squads will be showing the rest of the world what PTSA has to offer. The Under 12s will be at the Paris World Games, the Under 13s are off to the Iber Cup in Denmark and the Under 9s are going to the Iber Cup in Portugal. Best of luck to all those taking part.
The Future Of Football
PTSA has nurtured over 40 schoolboy and pro players who've gone on to sign for Premier League and Championship clubs and even get noticed in Europe. Arsenal, Aston Villa, Barnet, Cheltenham Town, Fulham, Leyton Orient, Reading, QPR, Watford, West Ham United, Lugo (Spain) have all snapped up young talent that Pro Touch has helped to develop.
Watch This Space
If you want to know where the next Harry Kane, Raheem Sterling and Jordan Pickford are coming from, best stay in touch with what PTSA are doing and keep an eye on the football pitches on Market Road N7.
Oh, and remember, Attic Self Storage King's Cross is just around the corner on York Way if you fancy a half time cuppa, or you need somewhere to store your football equipment, team flags or inflatable replica World Cups.
Come on England! Come on PTSA!