We're so committed to supporting local arts that we put our building where our mouth is. The rear wall of Attic Self Storage in King's Cross is 65 metres long and 5 metres high and back in 2017 we turned it into a giant outdoor canvas.
The Market Road Gallery, as it's known, is London's first bookable public art space where anyone can express themselves and everyone gets to vote on what stays and what gets painted over.
An Ever-Evolving Exhibition
We've had a variety of distinctive pieces on display over the last couple of years and the space constantly evolves and changes as new artworks replace the old ones.
The latest addition, created at the end of September, is entitled 'Solo 3.0' and it stands out like a spray-painted thumb.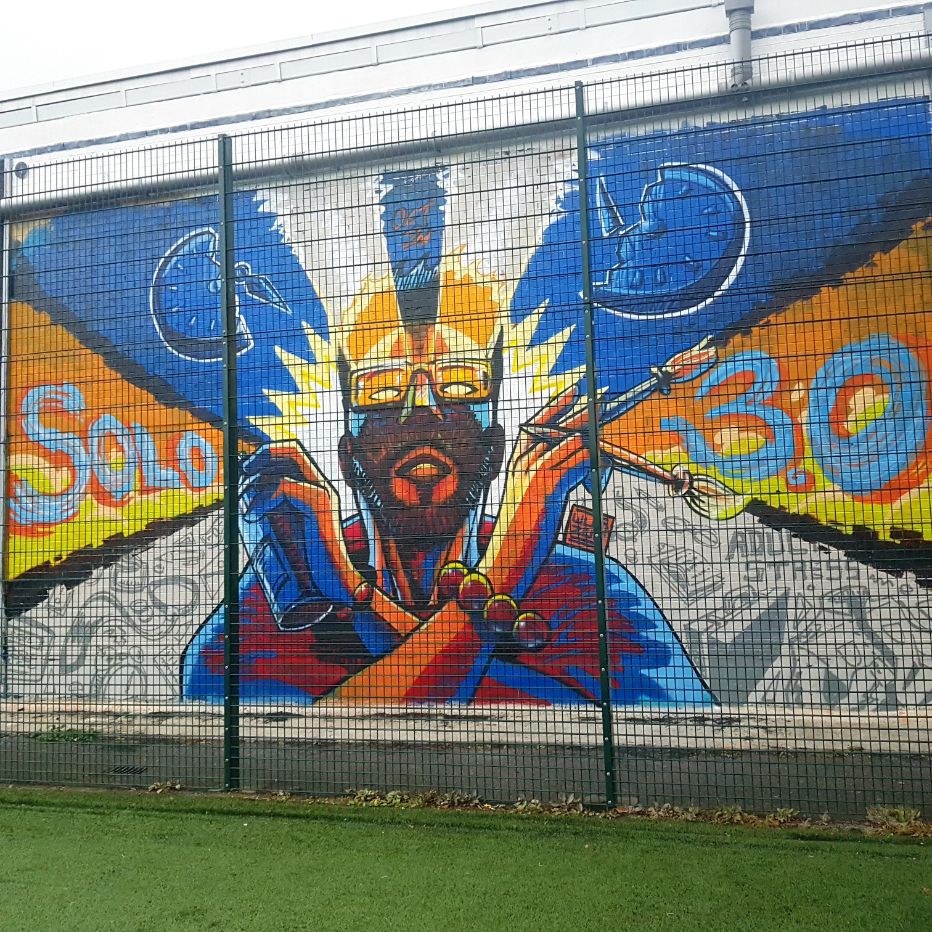 Wow. It's a striking image depicting some sort of superhero with x-ray vision blazing, armed with a spray can in one hand and twin paintbrushes in the other, who appears to have sliced through time and shrugged off all the stresses of everyday life represented by grey images of ties, alarm clocks and briefcases. Well, that's what it looks like to my untrained eye at least.
Who Is Wumzum?
This latest vibrant artwork was created by Wumi 'Wumzum' Olaosebikan – a British born illustrator, animator and muralist based in London who can trace his roots back to Nigeria.
Wumzum had this to say about his contribution to our wall: "It's a piece all about breaking past the stress of the pieces not fitting together and feeling like your time's running out. You need to exercise your creativity in order to break those mental and structural blocks… you have to paint your own path."
The Big 3-0
It seems to be inspired by the fact that Wumzum isn't a whippersnapper anymore. He just turned 30 and marked the event this week by curating a retrospective solo exhibition in East London, featuring works spanning his career, from international collaborations to his signature afro-future music inspired character designs. As Wunzum says "I hope to create meaningful and encouraging stories through my art…develop them into Interactive experiences."

If you missed the show, check out his website to see the influence of Jazzy Hip-Hop, Comics, Nintendo and the diverse London creative scene in his work.
A Wall For All
Better still, come and see his fantastical work in person by visiting The Market Road Gallery behind Attic Self Storage in King's Cross.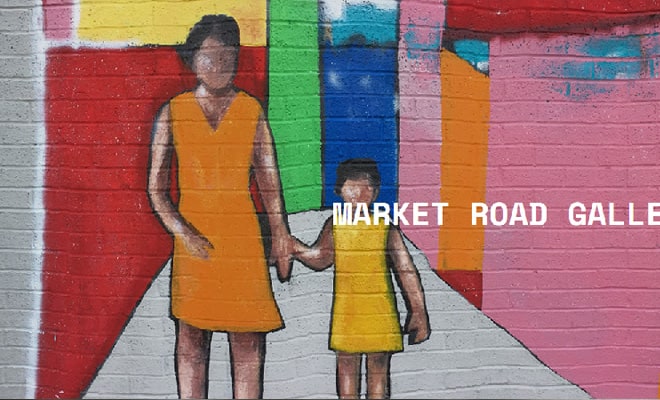 Whether you're an Attic customer or an art lover we're here to brighten your day in as many ways as we can. If you're a budding Banksy or you think it's your turn for a Turner Prize book yourself a place to paint by visiting Market Road Gallery
When walls so often divide communities, it's nice to see that ours is helping to bring people together.