The Hidden History Of Our New Home In Harrow
Attic's purpose-built hi-tech super-storage facility in Honeypot Lane opens this week so let's dig down into the London clay and local history that we're building upon.
It stands out on the corner of Honeypot Lane in Queensbury like some futuristic research lab – is this the impressive corporate HQ of some US Data Mining Company? A Boutique Hotel for the cyber age? A covert UFO research laboratory hidden in plain sight?
None of the above.
This architectural marvel is, in fact, none other than our brand spanking new flagship store in North West London – At 60,000 square feet it's the largest and most impressive Attic Self Storage facility that we've launched so far…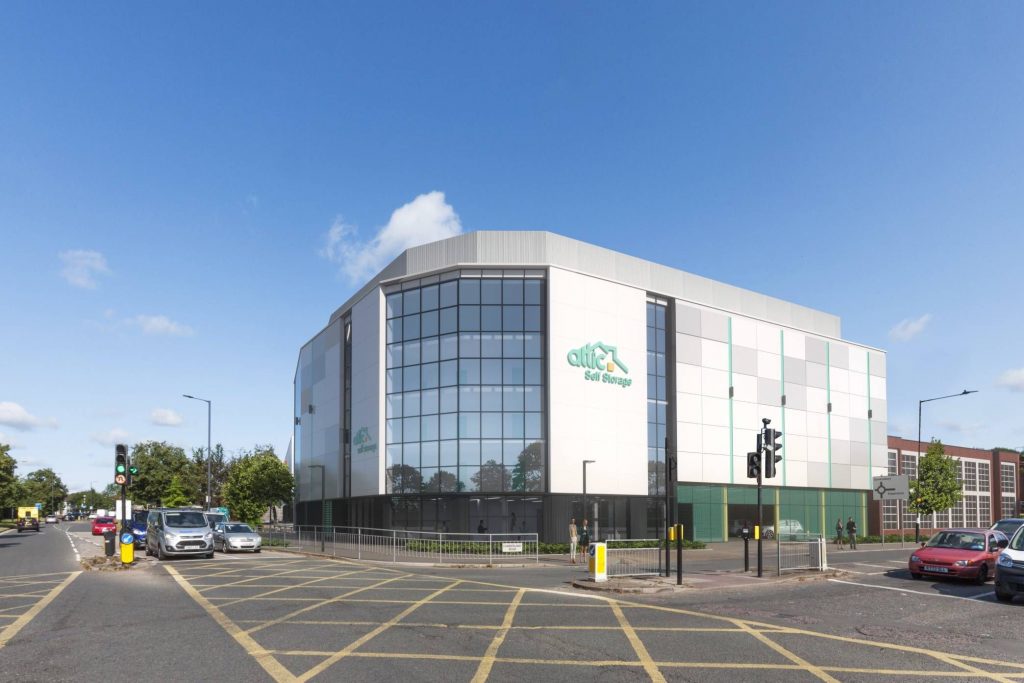 Well, by the beginning of April 2021 it will be.
("BOOK NOW TO AVOID DISAPPOINTMENT", as travel agents used to say before coronavirus shut them all up and locked us all down).
THE STATE OF THE ART
Attic Self Storage House in Queensbury, Harrow is a purpose-built cutting-edge self-storage facility. Our team of gifted architects, skilled engineers and builders demolished an abandoned petrol station, dug out the old fuel tanks, squelched through the clay, levelled the ground, sank solid new foundations and then created this glittering jewel in the crown of the Attic portfolio.
Or, if you're an Estate Agent –
'A light, airy, delightfully appointed warehouse-style space conveniently located in the sought-after South Harrow/Brent borders area. High Spec new build. Excellent transport links. Early viewing recommended'.
PUTTING ATTIC ON THE MAP
Type HA7 1EE into Google Maps and you'll see just how well placed we are. Attic Harrow is conveniently located on the B2345 at the corner with Cumberland Road. (no sausage jokes, please).
There's a low-rise housing estate directly opposite us and our immediate next-door neighbour is good old B&Q. We can't promise you breath-taking views across the sweeping plains of the Serengeti, but we can promise you twinkle twinkle little streetlights reflected in the majestic swathe of shimmering tarmac that the locals affectionately call Ye Olde Morrisons Car Park*.
You'll never run out of tea bags, biscuits or anti-bac gel while you're here, that's for sure. Feel free to drop in if you're in the South Harrow area and we'll be delighted to give you a socially distanced tour of our latest home.
(*Just to be totally clear, the Morrison's car park really is vast and conveniently positioned adjacent to Attic. Not that we would encourage or condone any of our dear customers making use of it to park, unpack or load up, or indeed fill up at the handy petrol station before heading home)
A NEW LOCAL LANDMARK
Attic Self Storage House in Harrow has been built with love, care and supreme attention to detail:
Hermetically sealed glass and steel, automatic air conditioning, movement sensitive lighting, pin codes, locking shutters, 360-degree video surveillance, lifts to help you lift any sized load, and unfettered access to your very own individually alarmed storage unit 24 hours a day, 7 days a week, 365 days a year, forever, or until you win the lottery and emigrate to Tahiti.
Once we remove the last of the cranes, diggers and hoardings surrounding our new building, you'll begin to see just how special this branch is shaping up to be.
164 Honeypot Lane.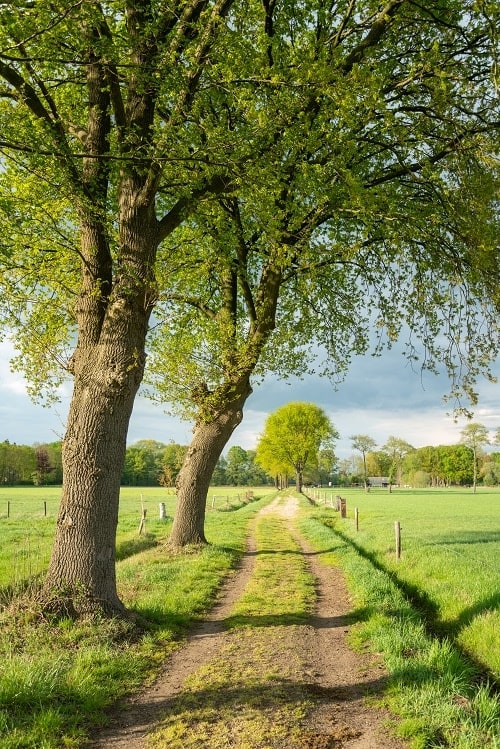 Our new address sounds somehow idyllic, doesn't it? Conjuring up images of sunny English wildflower meadows alive with the gentle murmur of a running stream, the soft drone of honeybees and the delicate flutter of butterfly wings on the breeze.
However, the modern Honeypot lane is a filthy great dual carriageway for part of its length and assaults your eyes with an army of factory buildings all along its eastern flank.
So, where's the 'honeypot'?
Well, there's an old saying round these parts that goes "stuck like bees on a honeypot' when referring to the effects of a strong adhesive. Apparently, ye olde villagers used the expression when describing Honeypot Lane during wet weather, at which times the sticky clay made it almost impossible to pass – or possibly just impassable.
THE CONCRETE AND THE CLAY
What's beige and sticky?
That's correct. London Clay. We know all about it, having dug tons and tonnes of the pale-yellow sticky stuff out of the ground when we were sinking the foundations, excavating two sunken petrol tanks, removing contaminated soil and creating a secret nuclear bunker for our exclusive VIP customers. Oops, did I blog that out loud?
Believe us, it takes an awful lot of digging, scraping and shaping to get the most out of the ground round here, which might suggest that Harrow is called Harrow after what the dictionary defines as that heavy framed farming implement arranged with spikes, teeth or disks which is dragged over fields to break up clods, remove weed and cover seed.
Or perhaps the name refers to the HARROWING experience of getting your wellies sucked off your feet when you try and walk through a wet clay pit.
In fact, neither of these is the correct etymology.
According to Siri, Alexa and Olaf at the cafe, Harrow's name comes from the Old English Hearg meaning a 'heathen temple', which was probably some configuration of standing stones on the actual hilly bit of Harrow where St. Mary's Church stands today.
But that's a good 3.5 miles away from the location of the new Attic Self Storage building, so let's leave the local pagan schoolboys (Harrow School, founded 1572) to get on with their weird ceremonies involving pigs, cockerels, digestive biscuits and wicker effigies, while we concentrate on what's directly beneath the polished floor of our shiny new reception.
That's right, more clay.
AND DID THESE FEET IN ANCIENT TIMES?
Honeypot Lane was originally a vague path, then a beaten track, and now a major arterial road.
Down through the ages, this same route has been trodden by the feet of armies, robbers, messengers, traders, labourers, druids and probably stone-age people looking for a prehistoric picnic spot free from biting ants, stinging hornets and that cloying bloody clay that stuck to their prototype fur-lined Ug-Ug-Ug boots.
It's a section of the long route that connected Dover with Brockley Hill before continuing on to Holyhead.
Before the area became suburbanised, brooks and ponds and huge great lakes of mud were visible all around this landscape. A meandering stream ­– now culverted beneath the road and pavement – used to wind its way through the middle of it all and was no doubt the source of a lot of the flooding and "Old Mother Perkins got sucked under by the sticky tentacles of the clay golem" stories.
QUEENSBURY RULES OK
The Queensbury suburb was built by Percy Harold Edwards (1886-1937). The name itself was chosen after a much-publicised newspaper competition and provided a tip of the hat to the neighbouring Kingsbury district, as well as a vague hint that some Royal Seal of Approval had been bestowed upon the development.
From 1916 Queensbury was the site of the Stag Lane Aerodrome. In 1920 Geoffrey de Havilland leased the former London and Provincial flying school site and established his aircraft company there. De Havilland manufactured numerous famous airplanes on site, including several varieties of 'Moth'. Which no doubt meant they had to switch the lights off at night to avoid an airborne disaster.
In 1934 the company moved to Hatfield in Hertfordshire and much of present-day Queensbury was laid out on the site of the disused airfield. To the west, Honeypot Lane – still a narrow squelchy track at that time – was transformed into the residential and industrial artery that it remains today.
THE GOLDEN HONEYPOT AT THE END OF THE RAINBOW
As far as we can tell from local records and the lack of any museums, nobody has ever unearthed a vast horde of Roman coins, excavated an Anglo-Saxon ship burial or ploughed up a pair of bronze age curling tongs round here. The clay doesn't give up its treasures once they've been sucked in.
The most unusual feature of this highway is the number and variety of factories which have come into being since the last war. Among the products which are made in Honeypot Lane are car, electrical and engineering parts, and bakery supplies.
The local residents are served by three shopping centres (Stanmore, Queensbury and Kingsbury), four filling stations, a library, clinic, mission hall, industrial estate, frozen food centre, government buildings, laboratories and a territorial army centre.
MAKING A HO-HO-HOME IN HA-HA-HARROW
There are plenty of good reasons to live and work in this area. According to a 2018 survey by the Office for National Statistics, the borough of Harrow was the "happiest" in London and scored higher than the English average.
Adversely, in another survey by an estate agent in 2019 the borough was found to be the "least friendly" in London.
Our extra-smiley super-accommodating reception team will soon put a stop to that snooty reputation. If you're thinking of moving in or out, Attic Self Storage Harrow is here to help. (Just so you know, average house prices within the borough stood at £479,682 as of 2017 and show no signs of getting any cheaper).
A LITTLE WEALDTONE HISTORY – YOU WANT SOME?
We're not the first folk to build our business round here. Way back in 1890 a large industrial UK headquarters was built by the American Eastman Kodak company in Wealdstone. By 1965 they had over 100 buildings on a 55-acre site, employing 5,500 people, including a fully staffed research centre.
Kodak called the shots as a major employer for 125 years before digital technology pulled the celluloid carpet out from under their feet. The long chimney of one of their original factories has been a landmark in Harrow ever since. Although we're still trying to find the risqué photos from their Xmas party.
Before that, of course, the war came to town. While The Blitz officially started on Saturday 7th of September 1940, many local sources (Olaf) state that one of the earliest German bombing raids happened when the Luftwaffe attacked Harrow and Wealdstone on 22 August 1940. They caused damage to cinemas, houses and a bank, but luckily no one was killed.
THE RICH HISTORY LIST
There are a few historically significant buildings within a short walk of Attic Self Storage House:
Grade I Listed Headstone Manor from the 15th century. One of the oldest surviving buildings in Harrow.
Grade II Listed Kingsbury Manor built in the late 1800s.
Oh, and news just in…
Grade II Listed Building
K6 TELEPHONE KIOSK, 364, STAG LANE NW9
That's right. It's an old-fashioned telephone box. British Made, Bright red, non-operational – enjoy!
Great For Storage, Rubbish For History
As you can see, the London Clay round these parts hasn't given up much in the way of significant archaeological finds in the last few hundred years. It kind of sucks, both literally and metaphorically. Especially when you're trying to dig down to discover the history of a place.
The good news, you'll be relieved to hear, is that the Honeypot Lane no longer floods during the winter and our new HQ in Harrow is surrounded by carefully cambered tarmac, heavy duty damp coursing and well-maintained drainage systems on all sides. Inside and out.
In fact, our new home in Honeypot Lane is so well designed and constructed it will probably be standing proudly on this corner for the next 23 years at least.