At Attic Self Storage, we like to keep our fingers on the pulse of the UK housing market so we can tailor our self storage solutions to meet the changing needs of our customers.
The UK housing market has been very much under the spotlight for the last few years. The lack of affordable housing, the struggle first-time buyers face getting on the housing ladder and the potential impact of Brexit have all received plenty of coverage in the press. So, we carried out a survey of 3,000 UK residents to find out what is really motivating people to move, or indeed preventing them from moving.
Brexit
We've probably all heard more than enough about Brexit, but as the leading cause of uncertainty in the UK economy right now, it must be having some impact on the UK's home moving trends.
The data supports this. However, our survey found that British homeowners are less concerned with Brexit than you might think. In fact, just three percent of the respondents said they felt Brexit would be the primary driver behind them moving house, with 28 percent more concerned about the stress of moving. For those looking to reduce stress, our self storage options in London can be invaluable, offering a degree of flexibility often found lacking in the housing chain.
The research also showed that Brexit was more of a concern for younger people and those with a higher level of income, which is perhaps consistent with many previous findings. Wales and the West Midlands were the areas most concerned about Brexit, followed by Scotland and then London. Given that a third of all EU Nationals in the UK live in London, and London voted heavily to Remain, these results will certainly be surprising to some.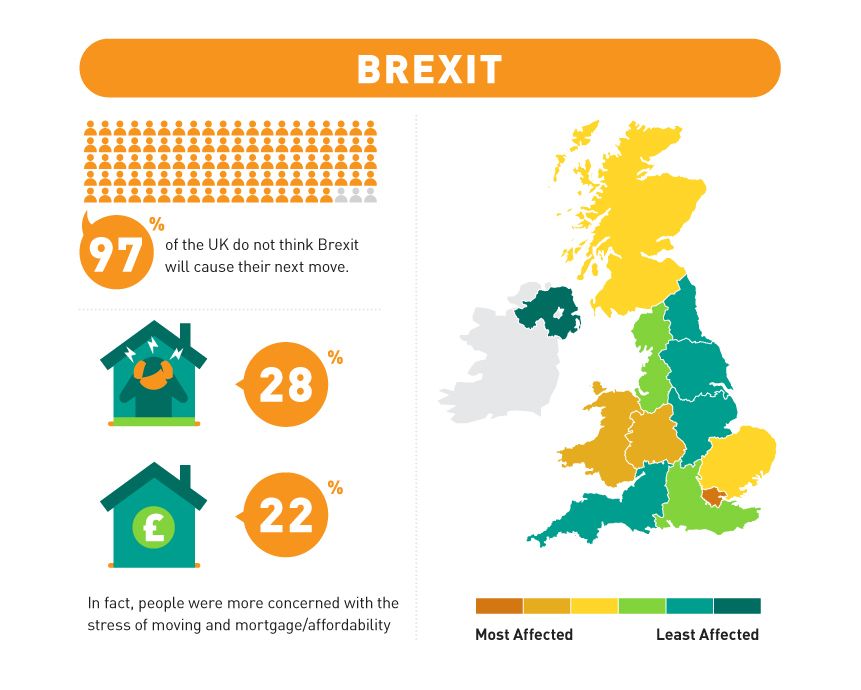 Age
Perhaps less surprising is the fact that when it comes to moving house, older people are more settled than the young. Overall, a third of the survey's respondents plan to move house over the next one to five years, with 18-24-year-olds the most likely to rent or buy a new home. That's probably something most of their parents will be quite happy about!
Although upsizing or downsizing is the main reason for home moves among all age groups, relationship status was the second most common reason for a move among 18-24-year-olds, while one-in-four of those over the age of 25 were more likely to be concerned about the needs of their family. Of those aged over 65, downsizing was the driver behind one in two home moves.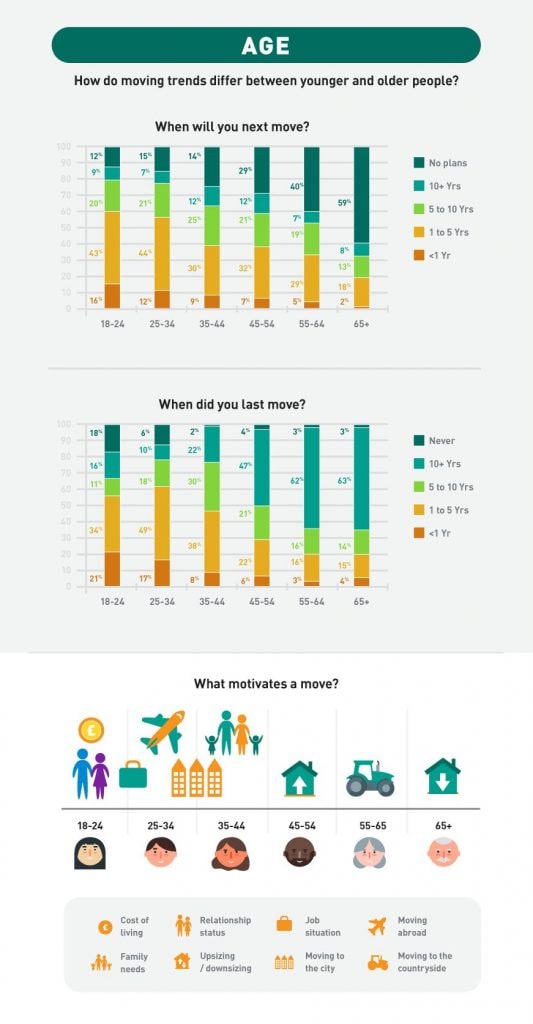 Gender
So how do the UK's home moving trends differ by gender? On the whole, women are more likely than men to want to move in the next year, with family reasons the most commonly cited after upsizing or downsizing. Of the men that do want to move, their main motivation, after upsizing or downsizing, is to further a relationship. Who said romance was dead?
Whatever their reasons for moving, as you would expect, money plays a significant part in the decisions of both sexes. Women are more concerned with the affordability of mortgage and rental payments, while men are more worried about the immediate expenses, such as the cost of moving and stamp duty. Thankfully, that's one less thing first-time buyers have to worry about now that stamp duty has been removed on properties under £300,000.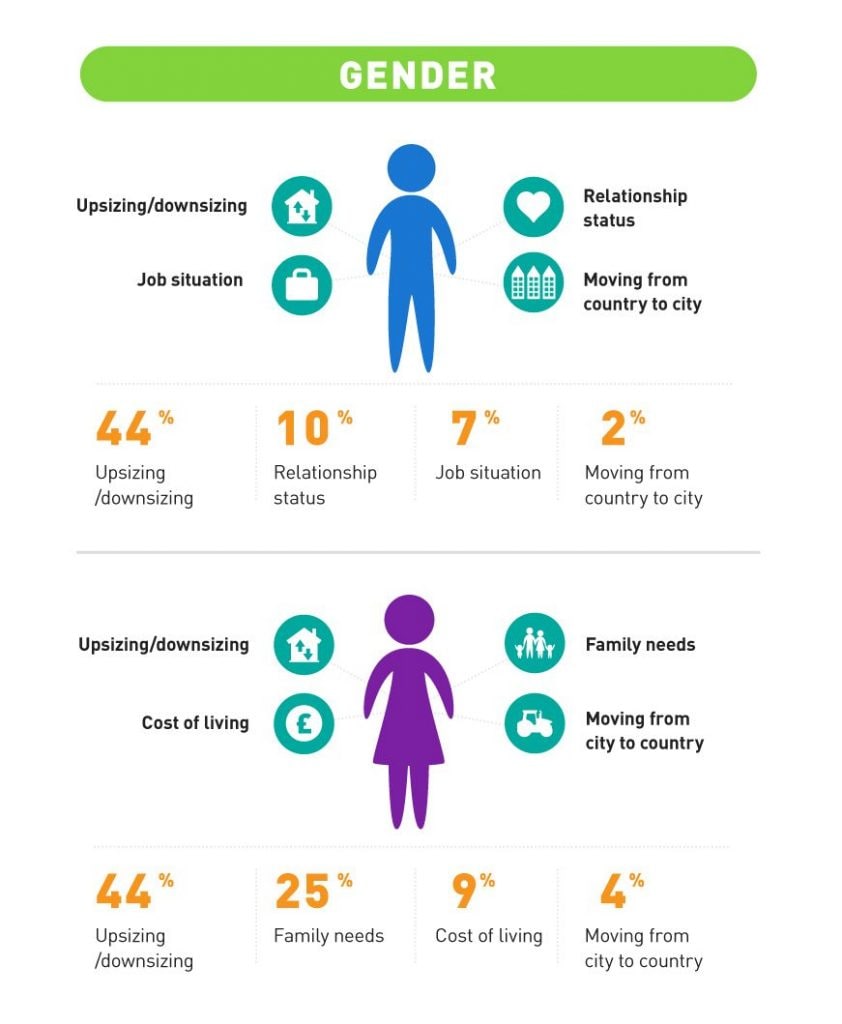 What Prevents People From Moving?
Of the 3,000 respondents, a third said they plan to move within the next five years. Londoners are the most likely to move house, with 54 percent of people in the capital looking to rent or buy a new property. Perhaps predictably, the most settled UK residents were those over the age of 65, with 59 percent saying they did not plan to move at any time in the future.
But what prevents people from moving? The proportion of people planning to move is clearly impacted by income, with those earning over £40,000 twice as likely to be planning to move house than those earning £20,000 or less. Given the lack of affordable housing and rising rental prices across the UK, it's likely this decision is imposed on those with lower incomes rather than one they've made themselves.
Surprisingly, the stress of moving home is the most cited reason for wanting to stay put – above affordability – with 28 percent of people put off a move because of the stress involved. Our research did also find a link between the stress of a house move and income, with stress more of a factor for those with lower earnings.
Moving Storage Solutions
Whatever the reason for your house move, at Attic Self Storage, we offer a range of short-term and long-term moving storage solutions at our five locations in London. Whether you're downsizing, moving in with a partner or relocating for work, we can provide a safe and secure environment where you can store your treasured possessions for as little or as long as you like. Total flexibility and complete peace of mind amidst the turmoil of a home move.