Spread the warmth this winter.
If you have more winter clothes than space for them, how about spreading the warmth to someone in need? Your help has never been needed more. All you need to do is drop-off your donations at any of our 5 stores, anytime between November and February 2023 and we will match your donation with new items*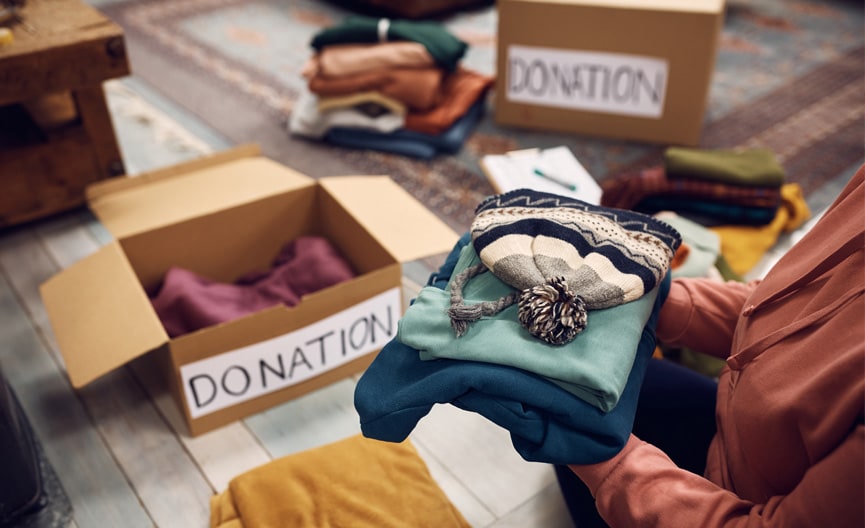 With the growing inflation affecting both fuel and food costs, the winter of 2022/3 is expected to be a financial squeeze for many more of the population than usual. It is anticipated that more than ¾ of households will be in fuel poverty by January 2023 (The Guardian 17/08/22). And 70% of food bank providers estimate that they will need to turn people away or reduce the size of emergency packs this winter due to the expected surge in demand. (The Guardian 30/08/22).
To support those in need of help within the local communities that we operate in, we will be donating items that will help to keep people warm this winter. We have also pledged to donate £5 to local foodbanks each time a new customer books a unit with us, from the beginning of August until the end of the year.
We're requesting our customer's and local residents to dig deep into their wardrobes to see if they have any new or pre-loved coats, fleeces, hats, socks, hand warmers etc. that are clean and in good condition that they would like to donate. Our 5 stores in Bow, Harrow, Marylebone, King's Cross and Beckton will act as collection points. You can hand your donations at receptions. Please make sure the clothes are clean and in good condition and packed in bags as no loose items will be accepted.
Drop-off points
Bow – 500 Wick Lane, Bow, London, E3 2TB
King's Cross – 270-276 York Way, Kings Cross, London, N7 9PQ
Marylebone – Rossmore Court, Park Road, Marylebone, London, NW1 6XX
Harrow – 164 Honeypot Lane, Harrow, Edgware, HA7 1EE
Beckton – 3A Claps Gate Lane, Beckton, E6 6JF
Please make sure to drop off your winterwear to a member of staff during our office hours:
Monday – Friday 8:30 – 18:30
Saturday 9:30 – 18:30
Sunday 10:00 – 16:00
Please consider making a donation to help spread the warmth this winter. If you have any questions, please feel free to contact us.