If you're not careful the shoe situation in your home can spiral out of control! Whether you're a fashionista with a high heel addiction or a bustling family of 6, either way, piles upon piles of shoes dominating the doorway or making your cupboard chaotic isn't a good look. Read on to discover creative and clever shoe storage ideas from Attic Storage. That messy mountain of sandals, boots and trainers hogging your floor space will soon be a thing of the past!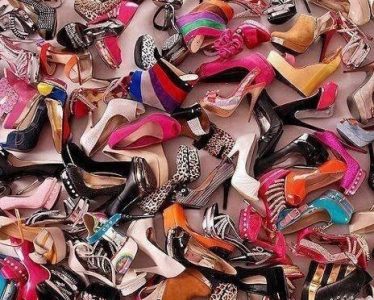 Coat Racks Turned Shoe Rack
We use a coat rack to keep all the family's coats out of the way, why not consider the same for their shoes? Rather than take up essential floor space you can mount a coat rack near to floor level for everyone to pop their shoes on. Hey presto, you have yourself a handy shoe rack!
Hang Your Boots Up!
If you have an impressive collection of boots, rather than stuffing them into your cupboard or under your bed, consider using hangers to store them neatly in your cupboard. It's even possible to buy hangers especially for boots on Amazon. Unlike ordinary hangers the clips will not damage or leave permanent impressions on your boots.
Shelving Your Shoes
You can guarantee when it comes to storage ideas and decluttering, here at Attic Storage, shelves always make the cut for us! They're a genius way to store pretty much anything – shoes included. If you're the type to spend most of your wages on fancy footwear, why not proudly display your most prized pairs? After all, shoes can be a work of art and by shelving them it's almost as if you have a decorative feature on your wall to admire! Equally, even if your shoes aren't much to look at, shelves can provide a practical storage solution.
Stairs Turned Shoe Storage
Ok, perhaps this is a bit far-fetched but we promised to offer creative shoe storage solutions! Click around Pinterest and you'll discover some interesting images of stairs that double up as shoe storage. If you have the budget for it, it's an incredibly unique idea. You'll be able to keep shoes out of sight and, more importantly, free up extra space in your home.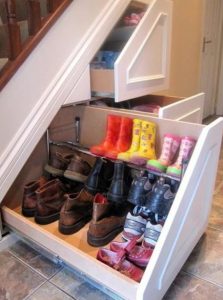 Attic Self Storage – For The Shoe Addict
If your shoe collection is that vast to the point that our shoe storage ideas free up little space in your home, consider self storage as an option. It's also a great solution if you're downsizing properties but you are reluctant to part from your collection! Contact Attic Storage today if you require further information about our London storage solutions. We offer storage in East London and North London.