Have you ever thought about living in an iconic TV-show home? Do you ever watch a sitcom and think, "What about the storage, where do they keep all their stuff? How can they afford to live there and why can't I afford an apartment like that?"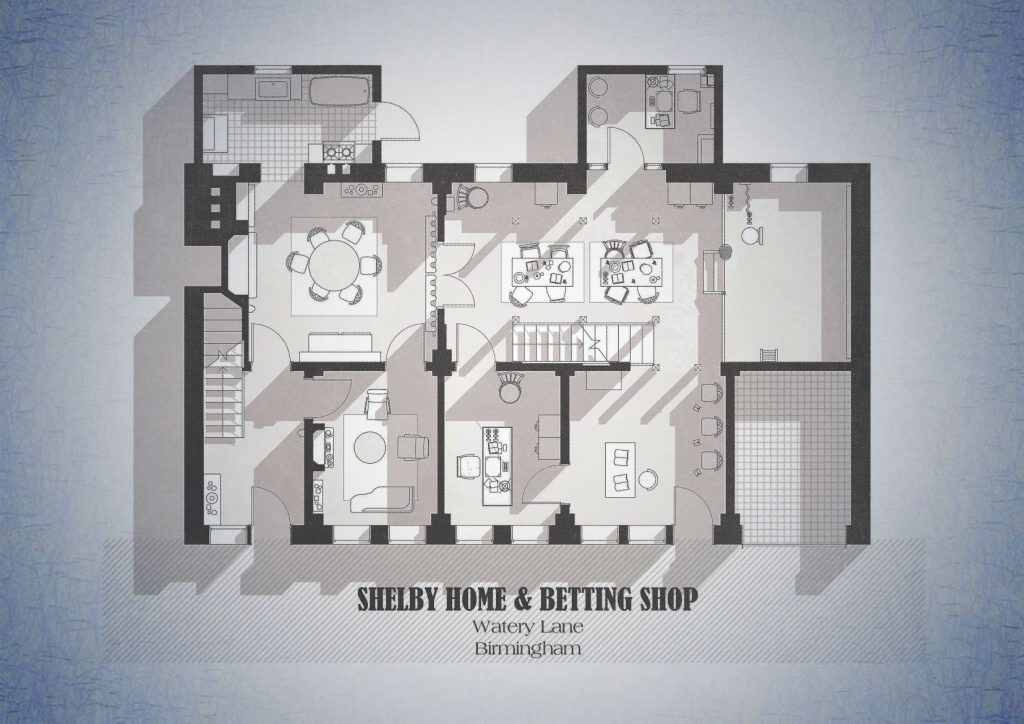 Well, as we regularly help people move home, we wanted to explore how much space buyers are actually getting for their money and how this varies across England. So, we've created some TV-show apartment floor plans from some of Britain's most well-loved shows, including Peaky Blinders, Only Fools and Horses, Peep Show and Sherlock, so you can see just how much space there is and how much they'd cost their occupants in today's market.
Peaky Blinders
Thomas Shelby and his clan of razor blade-lined hat-wearers call their domain 'The Shelby Parlour'. A house that doubles as a betting shop, the Midlands-based gang use the place as an HQ for planning and running their nefarious and highly illegal operations.
When you consider that The Parlour has a square footage that's more than double that of any of the other TV-show floor plans we're looking at, you'd be forgiven for thinking that the place would be worth a pretty penny. You'd also be wrong. Contextually speaking, anyway. While the Peaky Blinders' centre of operations comes in at a roomy 158.7m² , it's worth significantly less than all the other properties.
The property may well be more than three times bigger than Sherlock's flat, but it's worth less than half – a snip at just £229k Why? Well, The Shelby Parlour is in Small Heath in Birmingham. Move the place to South West London (SW3), and as you can see from the graph to the right, it'd be worth more than £3m. Thomas Shelby and the Peaky Blinder gang as Sloane Rangers? Well they did run a significant operation in London.
Luckily for fans of the show, the fifth season – hitting BBC Two later this year – is due to be set back in the soot-stained streets of Small Heath. So it'll be business as usual for The Peaky's.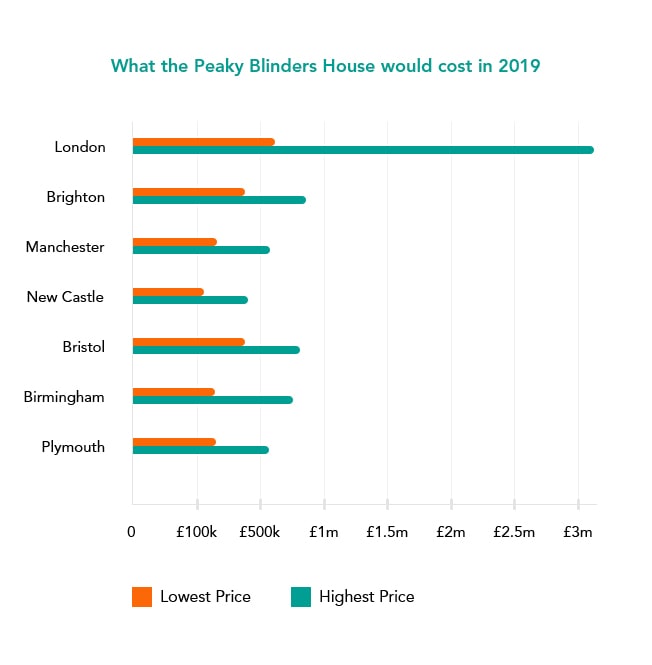 Only Fools And Horses
Britain's favourite wheeler-dealer, Del Boy, and his lovable plonker of a younger brother Rodney, famously lived in a three-bed flat littered with Del Boy's house clearance and import/export goods. (If he'd had any sense, he'd have used his garage storage.) The flat was situated in the fictional "Nelson Mandela House", meant to be located in Peckham, south London. If Trotter's Independent Trading Co. was to go bankrupt and Del Boy was forced to move out of his pricey London postcode, then he'd have a few options for cheaper abodes elsewhere in England.
We estimate that the Trotter's flat was approximately 71.6m² in size and at today's prices would cost just short of £500k in Peckham. If Del Boy wanted to stay in the London region, he could get a similar sized property for just under £280k in Romford's RM13. Of course, he does have the option to downsize. A smaller flat would be pretty cushty if he freed up some space by shifting all his stock over to one of Attic's personal storage units.
If Del Boy wanted to stay in the same size flat and was prepared to move out of the capital, he could move to central Brighton (BN3). Not only would he get the same floor space, but he'd also have a lovely coastal view for just under £370k. Although he might regret the sea air inspiring more of Uncle Albert's "When I was in the Navy" stories. Alternatively, he could move to Chopwell (NE17), a village outside Newcastle, where a similar size flat would cost just £74k. Admittedly, the trademark Del Boy patter might not work quite as well in a North-east accent, but he who dares, eh?
After Del Boy finds that he is in the possession of a John Harrison watch and sells it at auction for over £6m, he could afford a similar sized flat in London's swanky SW3 for £1,4m – lovely jubbly!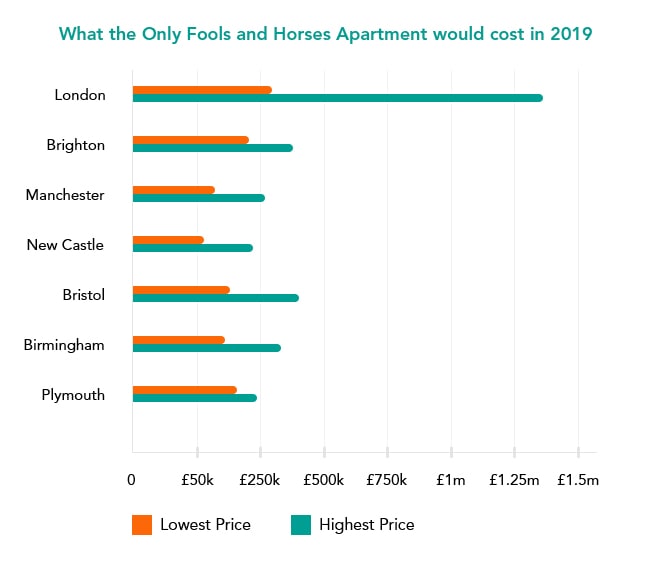 Peep Show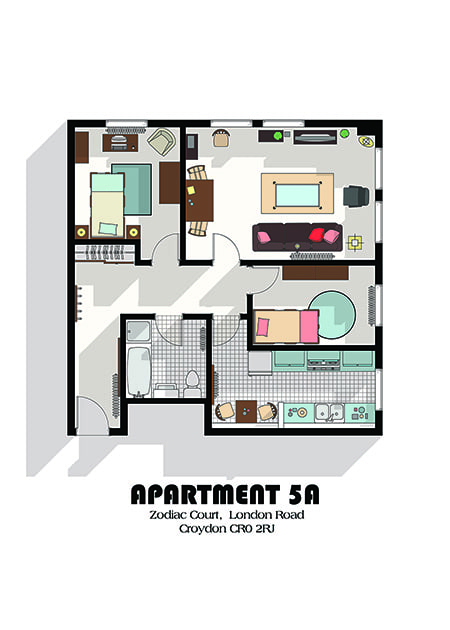 Mark and Jeremy, possibly Britain's most mismatched flatmates, live in a two-bed, apartment in Croydon. Mark, the sensible homeowner, is constantly fretting about the bills, his mortgage and the lack of respect with which Jeremy treats their shared living space. The ill-fated parties Jeremy throws, and the disreputable characters he invites into the flat, are a constant source of worry for Mark who often imagines life without his degenerate friend.
We estimate the flat in Croydon has a floor space of approximately 75m² and would cost somewhere in the region of £460k in today's market. Mark also dreams of a life, any life, other than his own. So in order to put some distance between him and Jeremy, he could move to the most expensive postcode in Manchester, according to our graph, and buy a place with similar floor space in Chorlton-Cum-Hardy for just £265k.
Even if he chose to completely reinvent himself (as he often threatens to do) he could sell up and move to Redland in Bristol. A short walk from the Cotham Tennis Club and Bannatyne Health Spa, he'd still have £100k to put towards his membership fees. Although he'd probably hate it and everyone there. That's just the way he is.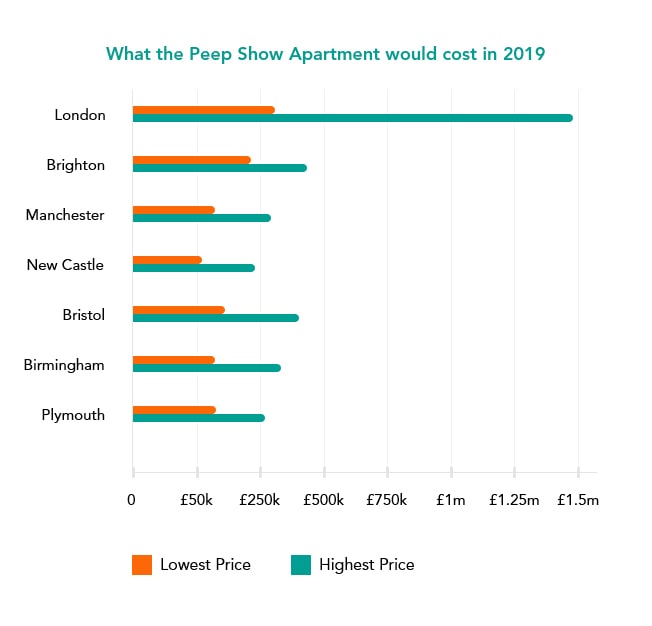 Sherlock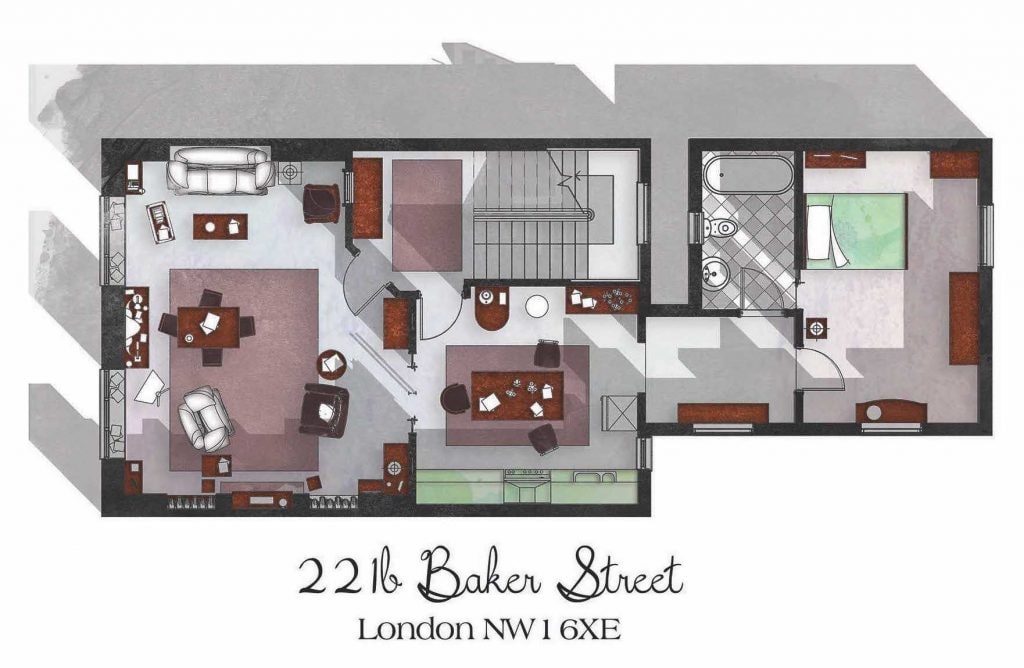 The TV-show apartment floor plan for London's most famous detective was perhaps the hardest to deduce. You never see Dr Watson's bedroom on the show, so we're going to treat it as a one-bedroom flat and we'd estimate the living space is 44m². Despite being much smaller than the Trotters' flat, it would cost in the region of a cool £468k.
Given 221b Baker Street's rather pokey dimensions, storage is no doubt an issue to the great detective. We're sure Mrs. Hudson has a cupboard free somewhere, but if Holmes needs more space for his case files – he could use our virtual Attic Self Storage assistant to investigate space for document storage in nearby King's Cross.
Now it's hard to imagine Holmes agreeing to live anywhere for long outside of his favourite city, but should he choose to go into hiding, then it's unlikely his long list of enemies would think to look for him in the Handsworth area of Birmingham (B21), where he could pick up a similar sized pad for a mere £60k.
Alternatively, having outwitted Moriarty for good (we know, it seems unlikely), then he could retire to the seaside in Weston-super-Mare (BS23). He'd be just across the Bristol Channel from the house where his parents live (on the show) and that would only cost him in the region of £100k. Either way, like anyone moving out of London's nicer areas, he stands to make a significant profit. It's elementary, dear reader… sorry.
If we had to live in a property from a TV show, we'd probably pick one with decent available storage. Nothing too showy, of course. But somewhere nice…
Downton Abbey, maybe?