What makes Attic Self Storage different?
We aim to be the best value storage provider in your local area.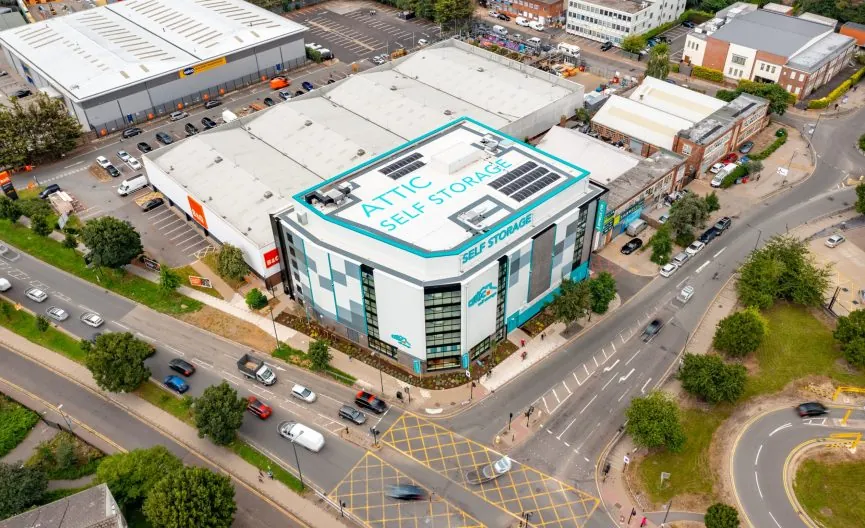 Complimentary 24 hour access
We view our units as an extension of your home or office and therefore believe that you should be able to access your things whenever you wish. Therefore we offer complimentary, 24-hour access as standard to all our customers.
Award winning customer service
Our teams aim to make sure our customers have extremely positive experiences. We have numerous industry awards as a result of this.
Customer Reviews
Our aim is to deliver a seamless customer experience and our customers tell us we do. You can see what our customers say here – Feefo, Google, Yell and Facebook.
Virtual reality store tours
We understand that many people are unfamiliar with self-storage facilities but also that it's not always possible to find time to come and visit us in person. For this reason we have developed our Virtual Reality tours so that you can have a look around our facilities at your leisure.
Contactless move ins
We have a trusted network of suppliers and our team can help arrange someone to move your things into your unit for you – so you can even move in without leaving home too.
This is the stage where you will set up your account. Rather than coming into store with proofs of identification and needing to sign a manual contract, with Attic Self Storage, you can do all of this online from your own home. This means that should you choose to move into your unit yourself, then you can do this directly without needing to spend time doing this in-store when you'd rather be moving in. The process is quick and simple and should you have any issues then our teams are always on hand to help.
App or PIN Controlled access
Access to the site (Kings Cross and Bow) is by a unique PIN code which also controls the alarm on your unit and our new stores (Marylebone, Harrow and Beckton) are equipped with app-controlled locks. You have complete control over who accesses your storage unit at all times.
Online Check-in & Account Management
It's simple for you to check in to your unit online which saves time when you come to move in. You can upload identification and sign a contract all from the comfort of your own home. Once you have checked in then you can create your account that you can use to manage payments and your unit 24 hours a day.
Local business supporting local initiatives
Our ethos is to play an active role in the communities in which we operate. We support numerous local charities and causes. As a customer of ours, your voice counts so please let us know if you have a preference as to which causes we should support.
Externally monitored CCTV
Our sites all have fully secure perimeter fencing and are protected with our Perimeter Defense System TM which includes remotely monitored CCTV and motion sensors.
Secure buildings and units
Our sites comply with the UK Self Storage Association's basic requirements as well as their best practice recommendations. In some cases we go well beyond these. We want you to have absolute confidence that your things are as safe, or even safer, than they would be in your home or office.
Living wage employer
We are proud to have been the first London Living Wage accredited storage operator in the UK, and we continue to believe both in fair pay and in sharing our success with the whole team.
Discounted packaging materials for customers
Providing storage space is only part of the solution. We offer discounts on our range of packaging materials to our storage customers.
Local price match guarantee
If you find a competitor with a lower price with the same quality offering then we will match their price AND offer an additional week free.
Electric Vehicle Charging Points
To support and encourage the use of electric vehicles we provide free vehicle charging points at all of our sites. We believe that by providing these, we are helping to drive awareness and uptake of electric vehicles, benefitting local air quality and the wider environment.
Accreditations
To demonstrate our commitment to meeting and exceeding industry standards we have achieved a range of accreditations.
Individually Alarmed Units
All our units are built from galvanised steel and are fitted with doors with secure steel hinges, alarms and individual lock mechanisms so that you can fit your own padlock.
Fire Detection Systems
Our facilities have the latest early fire detection warning systems that guarantee that alarms and our response protocol are triggered as soon as possible.
Flexible contracts with no minimum stay
You can extend or reduce your stay, or increase or reduce the size of your storage space, at any time. We will always do our best to accommodate your requests and make sure that you have the space you need for as long or as little as you need it!
Refund any unused rent
If you decide you need to move out sooner than you anticipated – don't worry, we will refund your payment for any days that you do not use your unit when you move out. We don't believe that you should have to pay for something that you no longer need! We do however ask that you give us a month's notice, just like renting a flat.
Contactless payments
For customer convenience we take contactless payments including Google Pay and Apple Pay.
Unloading Spaces
Parking is hard to come by – all our sites have free spaces for unloading and loading.
Removals
Our teams can help with any transport or removal arrangements that you might need.
Drive Up Storage Units
Looking for storage space in London with your own personal loading bay and 24hr access? Look no further, we have the perfect solution for you.
Forklift Facilities
We offer forklift facilities at our new stores to help with the heavy lifting.