Overloaded shelves, drawers stuffed full of stuff,
A carpet of bills and papers, ornaments covered in fluff
Clothing Mountain grows; shoes surround your bed,
No way you can relax while the mess consumes your head
Let this little rhyme inspire you to slip the marigold gloves on. Your home should be a sanctuary from the madness of the outside world – an oasis of order and calm. Creating space in your place will allow you to relax, breathe and think straight.
LOSE THE MESS, REDUCE THE STRESS
If you want to live a calmer life, start by tidying up your living space. The first step in creating more order and airiness in your home is to remove everything that isn't essential. Don't allow clutter to build up. Clutter drains energy, detracts the eye and is decidedly bad Feng Shui, man.
The best way to de-clutter your home is to go room-by-room. Work quickly and be ruthless about what you can lose and what you want to keep. (If there are any bulky pieces of furniture or valuable items that you just can't bear to dump, you can always bring them to Attic Self Storage for safekeeping).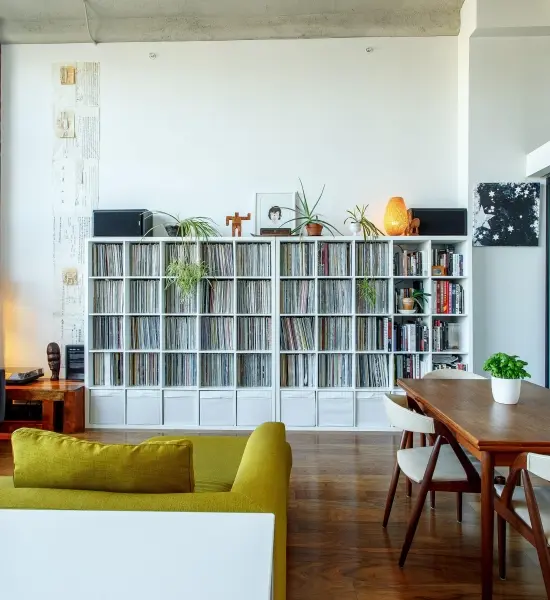 WHAT GOES ON BEHIND CLOSED DOORS
Once you've dealt with what's visible, it's time to get to grips with the hidden stuff. Start with your fridge – give it a thorough clean out. Chuck empty packets, stray lettuce leaves and anything past its sell by date.
The same goes for your food cupboards. Get rid of any ancient pots of jam, marmalade or honey. Make sure those emergency bags of pasta and rice are still edible and didn't go off three years ago. Don't keep cracked cups, chipped plates or stained cutlery either – you deserve only perfect utensils.
While you're in the mood to tidy up, give your bathroom a makeover too – clear out the cabinet, throw away old meds, turf out old toothbrushes, sling all those tiny bottles of hair conditioner, hand cream and hand wash that you pilfered from hotels and never used.
DON'T SPARE IT IF YOU DON'T WEAR IT
Treat your wardrobe in the same way. If it isn't filled with items of clothing you love to wear it's time to reach for the bin-bags. Get back on trend by culling the out of date shirts, wrong-shaped dresses and horrendous slacks (who wears slacks anymore?). Create a bit of space on the rail so you can flip though what you've got more easily. Oh, and while you're at it, perhaps it's time you kicked out half your shoe collection.
HOW TO MAKE A ROOM ROOMIER
Mirrors can make a world of difference and will open up a small space and make it feel larger and brighter. If you have a view of trees, sky or water from your room, you can position a mirror to bring the outside inside.
Lighting can help lighten up an interior and make it feel bigger than it really is. Allow natural light in as much as possible – clean your windows, don't keep them covered with heavy drapes, throw them open and let the air in as often as you can. It'll make you feel healthier and happier, especially when the sun is shining like it has been this week.
At Attic Self Storage we're obsessed with helping people make the most of their space. We hope our suggestions take you to a calmer place. In our experience having a clear out at home is a great way to clear your mind.