Present Classic Car Boot Sale At Kings Cross
Self Storage and Car Boot Sales go together like bubble wrap and boxes. Which is why we're so pleased that this weekend, Saturday 22nd – Sunday 23rd April, the area around the Attic Self Storage Kings Cross store is about to come to life with the sound of vintage cars, sizzling street food and live music.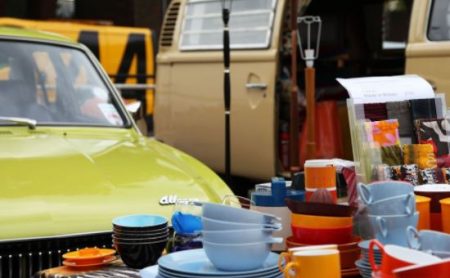 Red, Amber, Green…
The main action is set to happen around Lewis Cubitt Square, Stable Street, King's Cross N1C, which is a five-minute walk from our premises on York Way. Or closer still if you're thinking of bringing your drag-strip ready Chevy to burn some rubber and lay down a few doughnuts. This promises to be a classic car boot sale with the theme of 'Car Wash' so expect some 70s muscle cars as well as roller skates and multicoloured Afros to make an appearance.
Try On Some Boots From The Boot
Upcycled clothing, vintage gear stalls and cinema exhibits will be rubbing shoulders with some of London's finest street food wagons, music, performances, street theatre and all manner of vintage fun. A lot of which will involve getting the cars to start and stop when they are meant to if my previous experience of vintage vehicles is anything to go by.
The Stars Are The Cars
This two day extravaganza will feature the largest collection of vintage vehicles ever brought together in the area, with over 100 rare cars, buses, and commercial vehicles coming together in the spring sunshine (fingers crossed). There are also bike displays with some incredible mod and rocker ride-outs. (Although I'm assuming without the traditional skirmishes on the beaches that used to accompany such activities back in the day).
Petrol Heads And Fashionistas
This will be a proper family day out so look out for impromptu musical performances, roaming street theatre, live music and DJs spinning a vinyl-only selection of 40s to 80s tunes. Browse the collection of vintage fashion, accessories, homewares, collectables and records – supplied by traders operating from the boots of their lovingly waxed vintage vehicles. This is the ultimate day out for Petrol Heads with an eye for fashion and an ear for music and a finely tuned engine.
Best Of Britannia
Best of Britannia is a pop up marketplace featuring a carefully curated selection of Britain's best vintage gear, and plenty of opportunities to dine, drink, dance and do anything other than join the crowds fighting to watch, or run, the London Marathon down by the river on Sunday.
Eating And Drinking Al Fresco
Bring your appetite for some tantalising street food, coffee, cocktails and craft beer, served from yes, you've guessed it, the aforementioned range of vintage vehicles. You're probably a bit late to get a £4 Early Bird Ticket, but with Entry at only £5 on the door you can't really complain. There is also free admission to many attractions. Which no doubt includes the chance to get some great selfies of yourself sitting in some of those great old cars. Come on down, it promises to be fast and furious. And there's next to no chance of you pulling a hamstring or having to wear a pantomime horse costume. Though of course, if you are running The Marathon, we wish you the very best of luck!