After the tragedy of The Grenfell Tower fire in June of this year, the return of carnival to the W10 and W11 area will come as a welcome relief for an awful lot of the residents. It's a time for the community to come together in a spirit of happiness, celebration, unity and healing. Second in size only to Rio, Notting Hill Carnival 2017 is London's chance to honour the recently departed and show the world how to party. This week one of our customers, Julian Dyer, who lived in North Kensington for many years, has kindly written a personal tribute to the carnival he knew and still loves:
Home Squeak Home
Before I moved to East London and put my record collection into the capable hands of Attic Self Storage, I lived in a small flat above a Travel Agent on Bramley Road, W10 for 13 years. I could see Grenfell Tower from my front windows and out the back in the yard I could hear the nocturnal squeaking of The Ferrets that Mr. Fragosa, the Portuguese shop owner, kept for hunting (bizarre but true).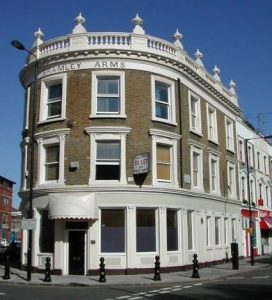 Hammering, Drilling And Scaffolding
The area was a bit rough and unloved when I moved in and for the first five years I was in the midst of a construction site as they built Chrysalis Records, an old people's home, and the adjacent block was gutted and transformed into a luxury penthouse and studio by a local photographer. The dust and noise drove me nuts, but every August something magical happened that made it all worthwhile: carnival.
We Wish You A Merry Carnival
Carnival was my Christmas. Every year we used to dust the records off, get the decks out, fling the windows open and have a house party on the Sunday. One of the major floats used to martial was in the street behind my flat so my guests were treated to a birds-eye view of the revellers as they went by in their costumes (and sometimes popped in to use my loo).
Dancing, Dining And Drinking
Soul, funk, disco, jazz, reggae and lashings of soca were the order of the day. Along with jerk chicken, rice & peas, red snapper, macaroni cheese and any other Caribbean delicacies my guests kindly brought with them in Tupperware containers. To fuel the festivities we used to fill the bath with ice and stock it up with bottles of wine and cans of beer. A great way of keeping the booze supply freezing cold, but not so handy if you needed a quiet toilet break.Apart from the cans of red stripe and bottles of dry white, there was one vital ingredient that made my carnival parties go with a swing. A super powerful carnival punch that was easy to drink, but made walking home afterwards rather difficult.
Carnival Punch Recipe
Take one large bucket or basin and clean thoroughly. Add 2 bottles white rum, 1 bottle dark rum, 1 bottle vodka, 1 bottle gin, 3 cartons pineapple juice, 2 cartons orange juice, I carton grapefruit juice, 2 bottles lemonade, plenty of ice. Stir in brown sugar for additional sweetness and add sliced watermelon, chunks of orange and halved strawberries. Lethal. (To create a non-alcoholic version for the children, simply leave out the alcohol).My concoction was a firm favourite with my old friend Mahendra, or Mo, the owner of the local Newsagents. He always used to nip in for a couple of glasses when he shut up shop on the Sunday. Years later I found out that he was diabetic and shouldn't have been drinking at all. Gawd bless you Mo!
Jump Around
I remember one particularly raucous party when I thought it would be a cute idea to send out 200 carnival whistles as invites. The synchronised blowing and jumping up and down that ensued very nearly brought the house down. The floor of that flat was definitely bowed when I moved out. The noise and the neighbour's complaints are still ringing in my ears.
Monday Madness
Bank holiday Monday was a day to go to carnival itself, usually nursing a hangover and carrying a plastic bottle of the carnival juice that had bit me (see above). Marching along behind a float, listening to a steel pan band or visiting one of the many sound systems was a sure fire way of blasting away any headache. My memory is a blur of colourful costumes, the smell of barbequed food and wafting weed, the taste of coconut water, the pulsating rhythms of reggae, soca and non-stop dance music. Carnival engages all your senses and leaves your whole body aching…but, boy, it's worth it.
Some Dos And Don'ts
Don't wear flip-flops (I cut my foot one year on a broken bottle and left bloody footprints all the way up my friend's white stair carpet. Oops.). Do wear an old pair of trainers. Don't wear expensive watches or jewellery. Do wear a smile and come ready to jump up and get down. Don't push. Do go to the toilet before you leave home.
Go Green
This year, the organisers are urging people to 'wear green for Grenfell'. And as an extra mark of respect there will be a minute's silence at 3pm on the Monday to remember the victims of the fire.
Special Shout Outs
Big up to DJ Norman Jay and his Good Times sound system for so many fond memories. Thanks to Attic Self Storage in York Way, King's Cross and Wick Lane, Bow for letting me reminisce about carnival back in the day and also for keeping my record collection safe and sound for the past 3 years. Their award winning customer service makes moving home a whole lot less stressful than it could be. I can thoroughly recommend them for storing DJ equipment, sound systems, carnival costumes, steel pans and bottles of over proof rum. In fact, everything you might need to create your very own carnival party. Notting Hill Carnival. Sunday 27th August – Monday 28th August 2017. 9am – 8.30pm. Have fun, be safe and remember, wear something green for Grenfell.