As summer starts to fully blossom, the area around Attic Self Storage in King's Cross is coming to life with entertainments and attractions for the whole family in May. Here are three of the biggest and juiciest:
Yes we Canopy
On the last weekend of the month the West Handyside Canopy Market squeezes itself back into the space between Central Saint Martins and Waitrose (N1C 4BH). You'll find stalls specialising in vintage gear, antique records, art and jewellery alongside every kind of food you could possibly have an appetite for. Some of the mouthwatering examples that usually make an appearance – artisan bread, cured meats, farmhouse cheeses, handmade sweets and desserts (the brownies are delicious), arancini risotto balls, craft beers, freshly roasted coffee and doughnuts. There are also live DJs and performances too to help everything go with a swing.
From plant to plate
On Tuesday 16th May Skip Garden Supper Club comes back to Skip Garden (1 Tapper Walk, N1C 4AQ) with 'From Plant to Plate' – a five course supper showcasing delicious organic seasonal British produce and paired wines. This is al fresco dining at its finest, and most of the 'sustainably sourced' ingredients come from the very garden you'll be sitting in. Depending on what's ready to pick there'll be a veritable a-z of local produce on the menu including asparagus, basil, broccoli, carrots, chervil, chives, coriander, dill, jersey royals, mint, nasturtium, oregano, parsley, peas, radishes, rhubarb, rocket, samphire, sorrel, spinach, spring onions, tarragon, watercress, and wild nettles. Like London itself the supper will feature an eclectic fusion of cultures and flavours. The five-course menu is priced at £35, with matched wines priced at £20. Find out more at the Skip Garden website and email [email protected] to book a table.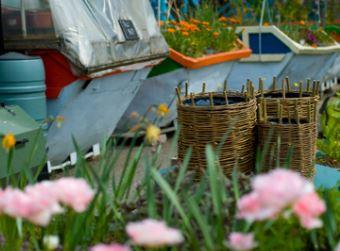 Green man Courtyard Festival
At the end of the month, on the bank holiday weekend, Thursday 25th May until Monday 29th May, The Courtyard Festival returns to Lewis Cubitt Square. There's lovely! Welsh music festival organisers Green Man present what they describe as a 'beast of a beer festival'. This is set to be a real treat for the connoisseur with over 140 of the best Welsh beers and ciders from independent breweries on offer.
Apart from a great line-up of Green Man DJs, including Huw Stevens, there's plenty of live music to help you work up a thirst. Pinegrove will be topping the party, bringing their special blend of country-rock with them and across the four days there's a host of other head-nodding foot-tapping left-field acts to enjoy. You might not have heard of half of them but they aren't half good:
Kane Strange, The Spring Heeled Jacks (Twmpath Band), Dutch Uncles, Leif Erikson, Soccer96, The Proper Ornaments, Josefin Ohrn + The Liberation, Rozi Plain, Bill Ryder-Jones, Slug, Gordi, Dungen, Menace Beach, The Wave Pictures, Mauno, Throws, Bartonar, Icelandic Male Voice Choir, Gareth Bonello, London Astrobeat Orchestra – Talking Heads Tribute, Hannah Peel, Chelou, Cobalt Chapel.
This may be a beer festival but there's plenty for the kids to enjoy too. Weird and wonderful walkabout performances, sizzling Welsh street food, puppet making, face-painting, street dance workshops, a kid's disco, a puppet theatre and a daily twmpath (a sort of Welsh ceilidh).
Book your tickets for The Courtyard Festival here.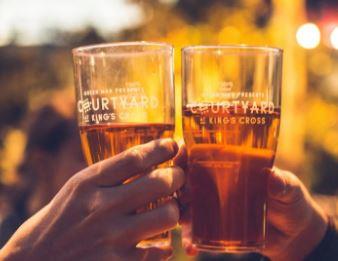 Attic Self Storage is proud and delighted to be in the heart of a part of London with such a vibrant entertainment scene happening this summer. Our very own Artbox London exhibition is still open to the public if you fancy popping into our reception for a private view.
We might not be offering street food and live music as an accompaniment, but we can offer you a biscuit and a cup of tea.
May you have a marvellous May!