Office work often equals noisy colleagues and constant interruptions. Working from home can offer a chance to concentrate in silence and be more productive. At the same time, working from home can present its own temptations and distractions. Daytime TV, your pet dog or even last night's leftovers in the fridge can be all too appealing compared to work. Throw into the mix a cluttered work space and it can be extremely hard to get your work head on. Here at Attic Storage we believe a tidy space is a tidy mind. Read on to discover how to turn your home office into a clutter free haven.
Home Office Ideas – Message Board
Various notepads, papers and sticky notes can make your work surfaces look cluttered. A message board is a great way to jot down reminders or deadlines. A wall that doubles up as a blackboard can be an alternative, creative and functional way of keeping your notes in order.
Home Office Ideas – Drawer Organiser
It can be tempting to simply chuck everything in to your drawers without care or thought! Draw dividers and organisers can be a great solution to keep small, loose stationary supplies tidy and contained. If you can't find an organiser that fits your drawer you can get creative and customize your own! Simply line the drawer with a selection of small containers, trays and bowls that slot in next to each other.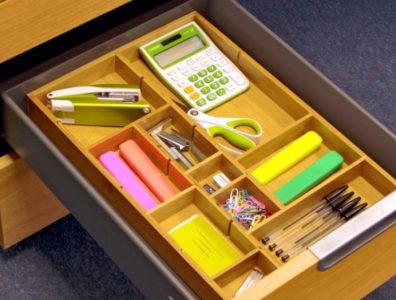 Home Office Ideas – Contain Cables
Wires from various electronic devices can litter your desk/floor and make your home office look unruly and untidy. Not only that, they can get in your way when working. A cable management system will ensure wires are not visible, leaving you with a nice and neat home office. Cable management systems usually work by hiding the wires along the inside of cabinets or below a desk space. If you rent a property you can acquire temporary solutions that won't cause any damage to the furniture. For instance, you can buy stick on cord organisers or, alternatively, velcro can be used underneath a desk to keep wires in order.
Home Office Ideas – Throw Away Unnecessary Items
Home offices can get cluttered simply due to the fact owners refuse to, or don't make the time, to throw things away. On a regular basis, take some time to purge your office of items or equipment that no longer works or is needed.
Home Office Ideas – Storage
Storage is key to creating a clutter free haven. Life is so much easier when there is a dedicated home for each item. Open shelves are a good place to start in terms of home office storage. They provide easy access to all your bits and bobs. Be sure to keep them tidy, however, as obviously they will be on display for everyone to see. Baskets, boxes and ottomans are also a great to store your home office items and paperwork. If you have any particularly large items or equipment that is not immediately useful, make space by placing them in a self-storage facility like Attic Storage. Contact us today if you require further information about our London storage solutions. We offer storage in East London and North London.