If you've ever had to move previously, you've definitely established one thing – moving expenses can add up very quickly! Therefore, we've thoughtfully put together these tips that will help you save money during your next move. Whether you're moving homes or from one home share to the next, we've got your back.
1. Move During Off-Season:
Have you heard of the law of demand – higher the demand higher the price? Bearing that in mind, in order to avoid huge moving fees, the first step would be to choose the right time to make your move.
According to a study conducted by Compare My Move which looked at data from over 95,000 house removals over the past year, it revealed that 34% of Compare My Move UK users preferred to move on a Friday with Sunday being the least popular day for moving at just over 2%. Additionally, the study also found that the UK prefers to move house in August and during summer months.
Therefore, one of the best ways to cut down on your moving fees would be to plan your move during the least popular moving seasons and days, if possible. This way you will get the best bang for your buck. To double check, compare quotes from your different local removal companies for different days of the week and make the choice that suits you best.
2. Sell, Repurpose & Donate: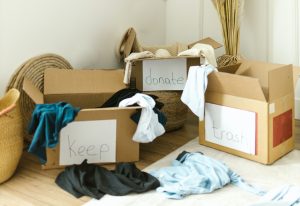 The more things you have to move, the more it will cost you in terms of time, energy and money. We suggest going through all your stuff in the initial planning period of your move to determine what you would like to take with you and what you're ready to part with. You can then decide to either donate them to your local charities or perhaps even hand them down to friends and family members.
Reselling unwanted items can even help you make the money to pay off some of the moving costs too. We suggest listing stuff like furniture, appliances etc. on Facebook Marketplace and clothes, accessories and shoes on Vinted
3. Packaging Materials: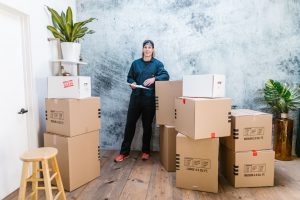 This is where you would expect us to suggest you get second hand cardboard boxes from your local supermarkets. Now although that would be the most cost-effective thing to do and definitely feasible for moving lighter, non-valuable items. We believe that the quality of boxes you use during your move will make a big difference.
100% dry, strong and sturdy boxes will ensure a hassle-free move. More importantly they will keep your things safe by reducing the risk of snagging, tearing or collapsing and therefore any unnecessary costs in damages. Additionally, their uniform size makes them great for stacking on top of one another, which will in turn maximise the vertical space in your moving van too!
4. Rent a Moving Van: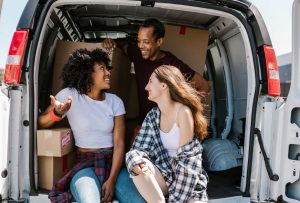 A full moving service sounds great and hassle-free-ish, but they can be very expensive and easily get you way over your budget! Therefore, a great way to really cut down your costs would be to rent your own moving van and organise the move yourself.
Friends & Family, Assemble!
Make sure to have all your stuff boxed up securely and ready to go and gather some of your friends and family who can help you with the loading and unloading. It's definitely going to be an exhausting day, but with the right team, an upbeat Spotify Playlist and refreshing drinks, you can manage it without having to pay for professional help.
(Top Tip – Make sure to treat your helping hands to some dinner!)
5.Rent a Storage Unit: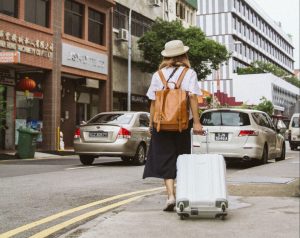 If you find yourself with gap days between moving out of your old place and into your new home, you will need to arrange a temporary living solution. So instead of paying a huge amount at an Airbnb, Hotel or any other accommodation big enough for yourself and all your things, rent a storage unit. This will make it easier for you to crash at a friend or family's place, knowing your stuff will be safe in your unit and you won't have the problem of tugging them around until the day you get to move into your new home.