1/ Don't.
2/ If you do insist on starting a life in London – as a student, a new parent, or as a career move – keep an open mind, a closed wallet, and try not to judge any books by their covers.
3/ London is arguably the oldest, most multicultural capital in the world and long may it remain so. People from all over the planet come to London to live, work, dine, drink, dance, and fall in love. Once you meet a few of your fellow residents, you'll come to understand that there's no such thing as a foreigner in London.
SPACES AND PRICES
4/ You'll also realize why having an Attic storage unit is a good idea when you see just how little living room you get for your money these days. Whether you're renting or buying, London property prices have gone through the roof and are currently heading for the upper stratosphere.
You may have to settle for a somewhat smaller space than you'd imagined, and if it doesn't have enough storage room, just remember – we do. Attic Self Storage branches are conveniently located everywhere. Try looking for somewhere to call home outside of the expensive zones, you might even get a garden if you're prepared to travel a bit further.
STREET SMARTS
Don't get mugged on your first day by looking like a tourist from the country. Don't walk around with your phone out, your bag unzipped, your antique fob watch swinging. Don't stand in the middle of the road trying to read a huge fold out A-Z in the wind.
Be aware of boys on bikes, mopeds and electric scooters. None of them should be riding on the pavement, but if they are – LOOK OUT. If they don't accidentally run into you, they could be purposefully planning a drive-by phone or bag snatch, so hold on to your belongings.
Just pretend you're visiting Rio de Janeiro and act like you would do there, and everything should be fine. Except maybe don't wander about in the bikini or speedos you'd choose for Ipanema beach.
ARTS & CRAFTS & CHEESE & WINE
6/ Embrace The Arts. London is a throbbing hotbed of music, spoken word, gallery openings, radical protest, experimental theatre, and National Treasures like the statues of Winston Churchill, Lord Wellington, and Queen Boudicea of the Iceni (the lady who fondly burnt London to the ground when the Romans were in occupation).
If you like cheesy musical theatre – head for Drury Lane, Piccadilly Circus, or any boozer with a karaoke night. If you prefer more progressive entertainment, try Hackney, Brixton, or the Southbank. There's always something for anyone who's into dance, DJing, mime, skate culture, or 'people watching' over a Cappa-Frappa-Latte-Chocca-Chino with almond milk.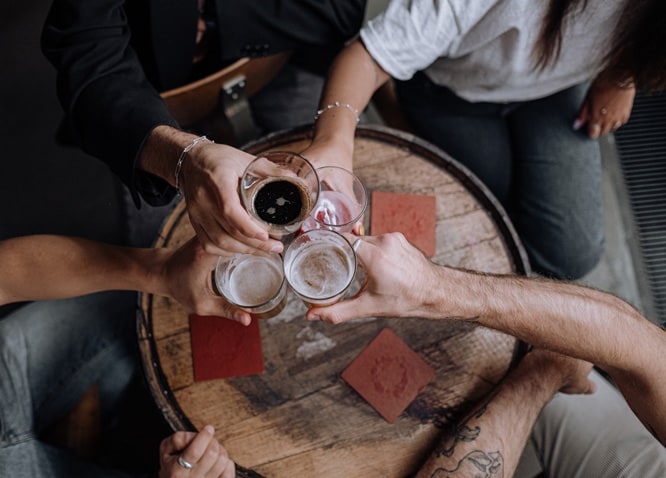 7/ There are some fantastic places to dine out in London but if you're on a budget, it's much cheaper to buy fresh fruit, veg, meat (if you still indulge) and other goodies from one of the many local markets and cook for yourself. You don't have to eat out to help out if you'd prefer to eat in and stay slim with locally sourced produce.
OPEN ALL HOURS
8/ London is the city that never sleeps, which is useful if you're a party animal or an insomniac. In keeping with our fully London-ccentric credentials, Attic Self Storage is open 24 hours a day, 7 days a week, 365 days a year. So, if you do have problems sleeping, you can always pull up a comfy chair in your storage unit and count your sheepskin rugs.
THE WORLD IS YOUR OYSTER
9/ Use the transport system as Brunels intended and you'll never need to wait for an Uber again. Buy an Oyster card and keep it topped up. Tubes, overground trains, DLR, bikes, boats, buses, and waterproof running shoes allow you to navigate the entire city without once having to pay the congestion charge, get a parking ticket or have your Fiat Punto destroyed by the security services because you inadvertently parked it outside the gates of Number 10.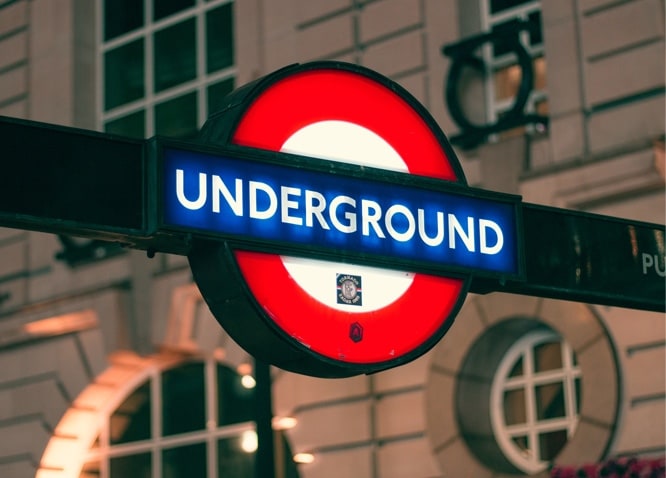 10/ You'll be pleased to learn that every Attic Self Storage facility across London is as easy to get to as it is to get away from. We have space to rent in Harrow, Marylebone, King's Cross, Bow and Beckton. We always choose accessible spots near the airport(s), right by the station(s), close to bus routes, just down the road from the DLR. All our branches are just outside the Central London Congestion zone, so if you do need to come by car, white van or lorry, you can avoid paying any charges, even if you're storing a lifetime of possessions after an acrimonious falling out with your housemates.
WELCOME TO THE SMOKE
11/ Londoners aren't as unfriendly as they are often accused of being by folk oop north who still leave their doors unlocked at night. It is a proper city though, so best to use your locks and bolts and common sense. Make friends with your neighbours and the folk in your local area. These are your people now.
Buy your frozen pizzas and milk from your nearest shop. You might pay slightly over the odds for your washing up liquid, bin bags, and eggs, but you'll be investing in your local community, supporting a small business and, who knows, after a few months of your devoted custom, Mo/Umit/Riz/Jeff might let you have a blueberry muffin on credit.
BEWARE OF MOCKNEYS
12/ There aren't many real Cockneys round the manor nowadays. If you do meet some geezer called Alf who claims to have been the barman at The Blind Beggar back in the Krayzy days, he's probably from Kidderminster and supports Man United.
Unless you're born within the sound of Bow Bells (not the bells of Bow Church, near the original Attic Self Storage building in E3, but the bells of St Mary-le-Bow church in Cheapside) you're not a Cockney, you're a Mockney and you're telling porkies, mate.
TEACH YOURSELF LONDONESE
13/ Apart from the odd bit of rhyming slang, there are over 300 languages spoken across the capital. You'll start to pick up the rich and diverse local lingo as soon as you arrive. English words like "Please", "Thanks", ''Scuse me" are all useful, but don't feel compelled to say "sorry" every time somebody treads on your toe.
The sooner you can add the words "Fam", "Unc", "Sis", "Cuz" or "Bruv" to the end of every sentence, the sooner you'll fit in, make new friends and be able to pass yourself off as a proper Londoner.
14/ A walk through London is a walk through history. Keep your eyes open for the blue plaques plastered on the side of buildings – they'll tell you who lived there and what they did, wrote or invented that merits them getting their own ceramic commemoration.
15/ If you're a DJ who's come to Shoreditch to make your fortune, a unit at Attic Self Storage is a great place to store rare vinyl collections, CDs, CDJs, bass bins, bubble machines, laser lights, and back issues of MixMag. With CCTV security throughout, pin entry, lifts, loading bays, and sound-proofing if you need it, we can probably help you broadcast live to the capital every weekend if you really feel you need to.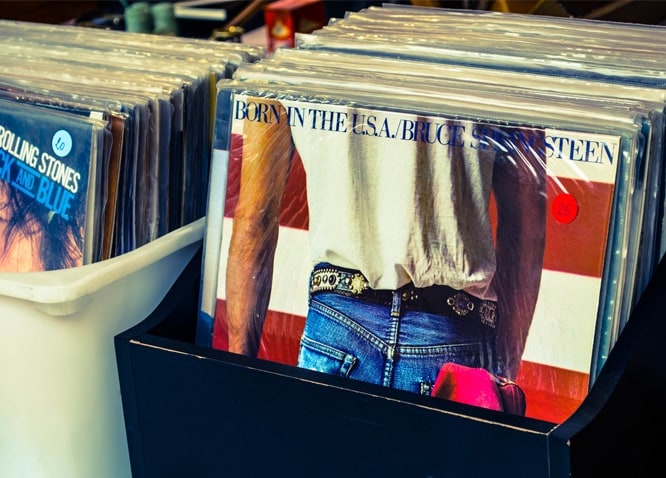 DOGS, FOXES AND LANDFILL
16/ London is a city full of dogs. If you meet a dog that appears to be unfriendly, angry, aggressive or uncontrollable, DO NOT APPROACH THE OWNER. And watch where you're walking. Badly trained owners don't always pick it up and put it in the bin.
17/ Foxes are cool urban dwellers, like you. They are experts at scavenging and surviving off the humans they are surrounded by. KFC, Micky D's, soiled nappies; they'll eat just about anything. If you're bothered by foxes, don't set up a hunt, just stop leaving your bin bags where they can rip them open. Better still, prepare smaller portions and don't throw any food away.
18/ Re-cycle, re-purpose, re-use wherever possible. 18 million metric tonnes of waste are produced by London every year. Try not to add more than you need to the capital's carbon footprint. Dispose of your waste with consideration, e.g. don't dump your old broken mattress up against the wall outside the local primary school.
GET FIT, STAY HEALTHY, MAKE A DIFFERENCE
19/ Join a gym and get rid of that Lockdown Belly. Most London gyms will give you special cheap sign up rates for the first month or so. After that expires, well, just join another gym that's offering discounts for new members.
Or, fit out your Attic Self Storage unit with mats, weights and an exercise bike. We have toilets, tea and coffee making facilities and there's always a friendly member of staff on hand should you drop a barbell on your toe.
20/ We've survived over two years of this coronanonsense and we intend to survive plenty more, by regularly sanitising surfaces and continuing to comply with all the latest guidance. Even if some future Zombie Death Plague sweeps across London, your local Attic Self Storage branch will always be a safe and secure place to run for. Just remember to aim for their heads.
WE'RE ALL IN THIS TOGETHER
21/ Don't walk past homeless people and pretend they're not there. Every person is a human being with a name. You don't have to give a donation, but you could give them the time of day. Say hello, ask how they're doing, give them a smile.
22/ If you've got a great, well-paid job in the capital, good luck to you. But it feels even better when you put something back. Volunteer at a school, do a little charity work, improve somebody else's life. Attic is always keen to support and get involved with the communities we serve – donating to food banks, funding sports events, supporting art initiatives, and having a positive impact in the local area. We'd love it if we can encourage our neighbours and customers to do the same.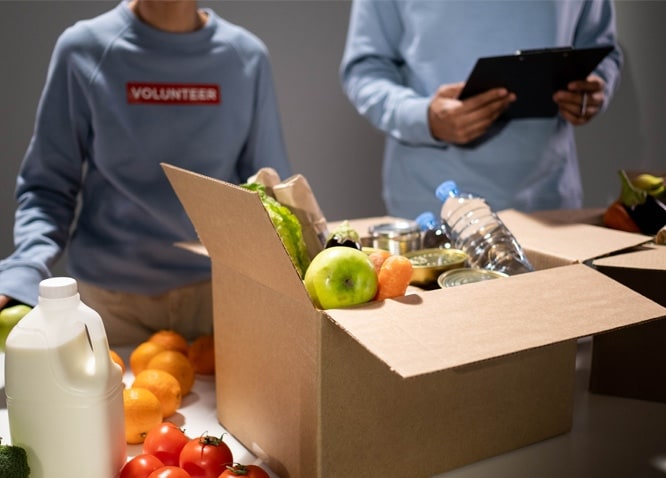 ALLOW US TO GIVE YOU A QUOTE
If you do move to London, don't be intimidated by the sheer size of the urban sprawl. It's easy to get lost, but it's also easy to get around, once you get the hang of it.
With a little flat in zone 3, 4 or 5, and an Attic storage unit nearby if need be, the whole city is yours to explore and enjoy.
Like Samuel Johnson once said, in a famous flourish of sexism, "You find no man, at all intellectual, who is willing to leave London. No, Sir, when a man is tired of London, he is tired of life; for there is in London all that life can afford."
Ralph Waldo Emerson was more forgiving when he suggested "The best bribe which London offers to-day to the imagination, is, that, in such a vast variety of people and conditions, one can believe there is room for persons of romantic character to exist, and that the poet, the mystic, and the hero may hope to confront their counterparts."
Not forgetting female fans of the city:
Virginia Woolf observed "The streets of London have their map, but our passions are uncharted. What are you going to meet if you turn this corner?"
Charlotte Brontë challenged everybody to move to the capital, even if only for a few years: "I like the spirit of this great London which I feel around me. Who but a coward would pass his whole life in hamlets; and for ever abandon his faculties to the eating rust of obscurity?"
Mind you, there was one Coward. Noel Coward. Trust him to put a witty spin on it: "I don't know what London's coming to – the higher the buildings the lower the morals."
We prefer to tell our customers, young and old, students or school teachers – "if you can't afford to travel the world, stay in London and let the world come to you."
Which isn't bad for something we just made up.
Yougetmedoughinnit, fam?