Our 10 Point Pledge to the Planet
Don't sweat. Attic Self Storage isn't about to guilt you into injecting your kid's dollhouse walls with insulating foam, turning off granny's electric blanket or donating your kettle to a polar bear sanctuary.
We are, however, keen to do as much as we can to reduce the impact we have on old Mother Earth and all her children. We won't be carving these tenets into stone tablets a hundred meters high (an unnecessary waste of resources and energy) but we do intend to keep them.
1/ We're Committed To Sustainable Storage
We believe in creating something that will last. With every new store we design and open – whether it's a conversion of an existing building or a brand new build – we are determined to have a positive impact on the local community and wider environment in every way that we can.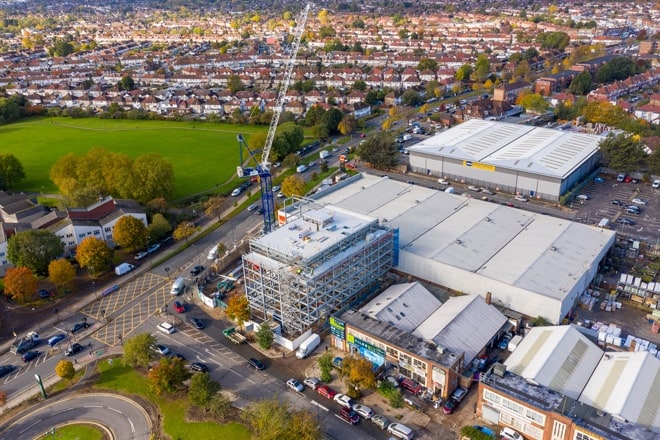 2/ Every New Attic Will Be Carbon Negative
As far as Attic is concerned, achieving a 'carbon zero' rating isn't aiming high (should that be low?) enough. With the use of solar panels, recycling materials, advanced energy-saving systems and, whenever necessary, our own green fingers, we aim to make every new Attic Self Storage facility that we build fully carbon negative. Our ambition is to grow into a company that's so sustainable we can actually put energy back into the national grid, rather than drain power from it.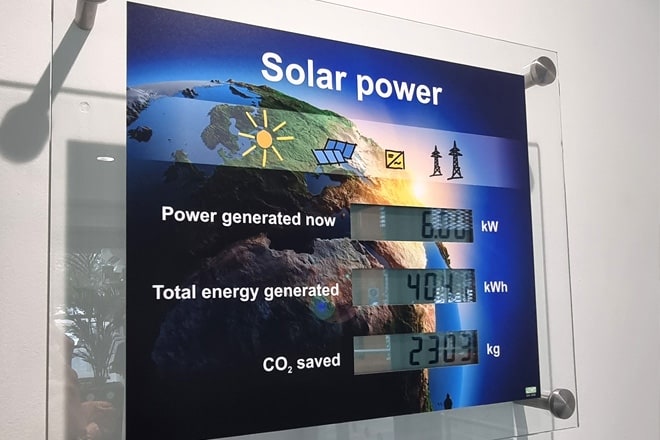 3/ Attic Likes Bikes
If you don't want to use a car or a van to get to your storage, more power to your feet and pedals. We welcome joggers, E-Scooterists, and cyclists at all of our sustainable storage facilities across London.
Attic Harrow already has secure bike parking, including places for cargo cycles. The new Attic in Beckton will have more of the same. Travelling about town using nothing but your own energy really is the way forward. Before you know it, one of our customers will have won the Tour De France. Or developed a lycra burn or something.
4/ Re-Cycle, Re-Use, Re-Purpose, Repeat
Apart from cycling, we're also passionate about recycling. Not only during the construction process but also in the everyday running of our Attic stores. Water, paper, plastic, metal – we do our utmost to make the most of everything, rather than waste anything. The less we send to landfills, the better for us all. Apart from our virtually indestructible plastic storage tubs (they'll keep your stuff safe for a million years), all our cardboard packing boxes are compostable though.
And we're keen to take our customers with us to the green and pleasant land of the future. In 2021, Attic organised a Hand Me Downs campaign to encourage people to donate their unwanted toys, which we then delivered to The Toy Project, we succeeded in collecting over 1,000 pre-loved toys.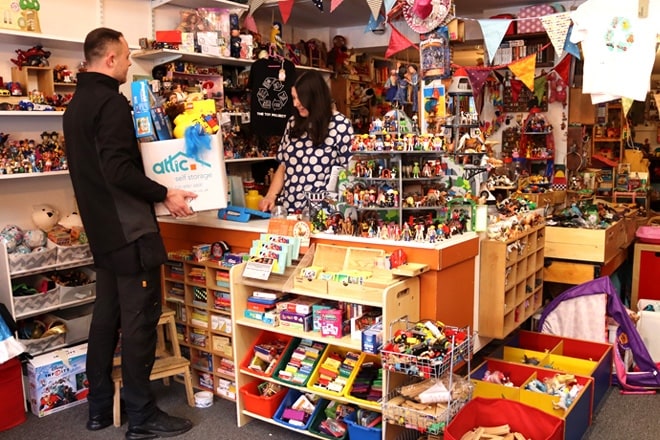 We also commissioned a study revealing that 67% of Londoners regularly throw away clothing and household items because they simply don't have enough space to store them. Fortunately, Attic does.
5/ The Lights Are Off When No One's Home
All of our facilities have low energy, movement-sensitive LED lighting and have been done since 2012. The system is a wonder to behold and fun to put to the test at 3 am in the morning by racing down the corridor with your trolley, trying to outpace the lights as they spring to life ahead of you. Spoiler alert: the LED lights always win.
6/ Green Walls, Green Roofs, Green Fingers
Air quality is a serious problem across London. Wherever possible we make room for green space in and around our sites. Trees, bushes and shrubs are great air pollution filters.
The original Attic Self Storage in Bow was the first place we built with a wrap-around landscaped wildflower garden, right by the side of the busy A12. It's a sight for sore eyes when the spring arrives and is designed to provide food, refuge and a thriving habitat for birds, bees and badgers.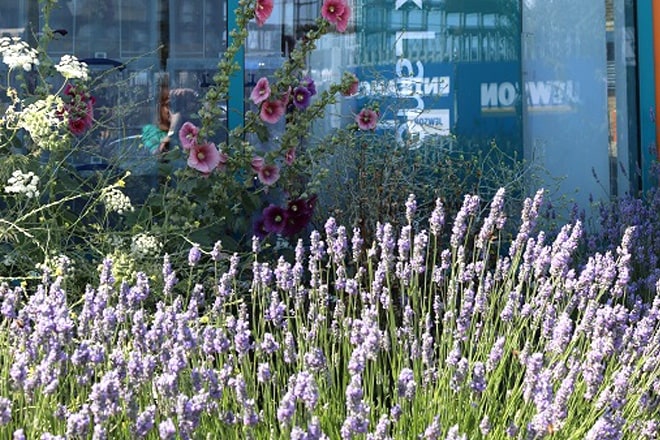 Ok, we lied about the badgers, but we did see a Peregrine Falcon land in the lavender bushes once. Unfortunately, it wasn't in 2020 when we participated in the RSPB Garden Birdwatch programme.
The green living walls we've introduced in our receptions have proved a big hit with our staff and customers. There's nothing like a bit of natural vegetation to cheer you up on a grey Monday morning in February.
7/ BREEAM Me Up Scotty
All our new sites are being constructed according to the excellent standard insisted upon by BREEAM. No, we're not being told what to do by a fish. It stands for Building Research Establishment's Environmental Assessment Method. It is the world's first, and leading, sustainability rating scheme for masterplanning projects, infrastructure and buildings. Needless to say, every Attic Self Storage facility has passed with flying colours. So no need to CARP on about it.
8/ Noisy Neighbours? No Thanks!
Noise pollution is a no-no, as far as Attic is concerned. We make an effort to preserve the peace however and whenever we can. We used CFA piling in the construction of our Harrow site – drilling and concreting in one swift, fluid operation – rather than waking everybody up at 7 am every Sunday for six weeks with the horrendous screeching of common or garden piles being bored out (ouch).
From the moment you enter your pin code and the entrance doors hiss open before you, you will find yourself transported to a world of soothing music, rubber-tyred trolleys and all but silent hydraulic lifts. An ASMR cocoon amidst the sirens, helicopters and throbbing engines of the urban jungle. The loudest noise you'll hear in Attic Self Storage is the sound of swearing when someone drops a packing crate on their own foot.
9/ Our Friends Electric
We're doing our bit to make low emission vehicles feel at home in London. Every single one of our stores now has electric vehicle charging points – Attic Beckton will have the very latest fast charger. Even the van that we use across all our sites is fully electric, apart from the driver, who we insist has to be a human.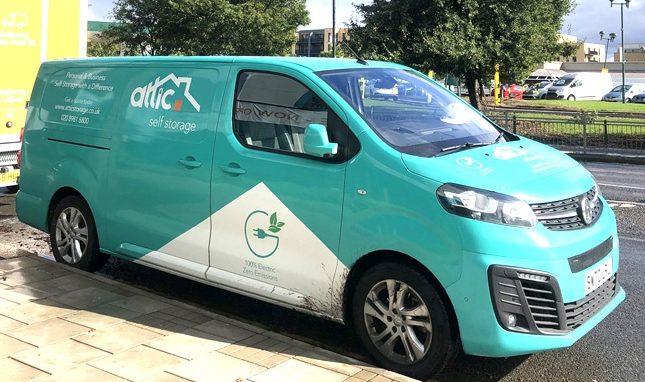 10/ Building A Business Without Damaging The Environment
Our new Attic store in Harrow was constructed in the greenest, cleanest, most considerate way possible (Construction Journey of Attic Self Storage, Harrow). We removed and disposed of a mountain of contaminated earth left by the petrol station that used to grace this unloved corner of Honeypot Lane in HA7.
The same environmental considerations are the heart and soul of the Attic we're currently building in Beckton, E6. It's destined to be the first building in the local area with a partially green roof, solar panels and a living green wall in reception. An oasis in a sea of tarmac and concrete; a sanctuary from the hustle and bustle of the surrounding retail parks; An Ecothedral to St. Orage.
So there we have it. Attic's green credentials laid bare. It's all about sustainable self-storage. You don't have to be a member of a climate action group with your face superglued to the road to see that it makes sense on every level.
As space for living and working in London gets more and more restricted, we're here to give you room (and fresh air) to breathe. Whatever you need to store, for business, pleasure, leisure or whatever, we can help.
Attic Self Storage is the place to come if you have something particularly precious, priceless, fragile, or irreplaceable that you want looking after.
Planet Earth for example.